Creating relatable content is the best way to turn clicks into leads. Content takes on a variety of formats, from blogs and emails to professional and social networking platforms. In recent years, AI writing tools have been making waves. They haven't quite taken over the writing world yet, but they've advanced to the point where they are pretty helpful.
Text generators help writers save time, stay on brand, and improve copy quality when used correctly. There are various AI tools on the market; thus, finding one that meets your needs can be challenging. The following list covers 10 of the best AI writing tools to hook readers to your content.
AI tools for Twitter:
As a text-based platform, Twitter can be a great place for writers and content creators to promote their brand or products. Here are a few tools that simplify this process:
Postwise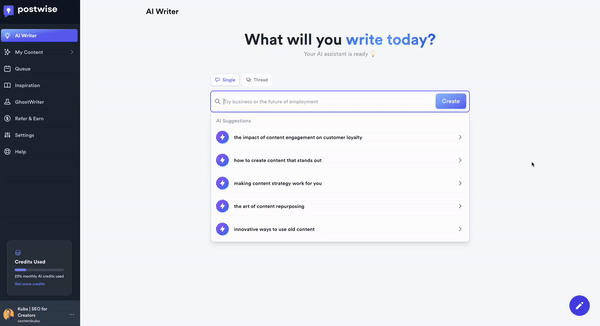 Compared to the other generic or social content AI writing tools listed here, Postwise uses a custom AI model instead of GPT to streamline and automate your Twitter content production. The interface is tailored to
boost Twitter engagement and sales
by generating, scheduling, and suggesting tweets based on audience interest. If you need help wording your opinions as tweets, adding backlinks, and retweeting viral content, Postwise should be your top choice.
Pros:
Automatic tweet generation based on a custom AI model created based on your existing Twitter content
Suggests keywords and topics by analyzing target audience and trends
Uses NLP (natural language processing) to analyze content and identify keywords, relevant topics, and trends
AI-powered Tweet and thread writer to generate catchy tweets for maximum reach
Ghostwriter features auto posts dynamic content from different sources to engage with followers
The Growth Tools suite helps increase followers
Includes an analytics dashboard
Cons:
Pricing: After a free trial with 120 Postwise AI credits, users can choose between the Basic plan, which includes 400 AI tweet credits and 6 months of scheduling, for $37/ month, or the Unlimited plan for $97/ month.
Tweet Hunter
Tweet Hunter is an all-inclusive Twitter growth AI. It uses GPT-4 to help you generate viral tweets, analyze account performance, and manage connections with followers. The algorithm's primary goal is to help users monetize their Twitter performance.
Pros:
Includes various AI-driven features like auto-retweets, link plugs, DMs, and thread hook generators.
Offers audience data and insight to identify relevant content
Generates tweets based on industry patterns and trends
Massive tweet database that can be rewritten using AI
Dedicated AI assistant to create engaging Twitter content
Cons:
Analytics is not available instantly
Content is not unique and generally superficial
Pricing: Tweet Hunter offers a 7-day free trial, after which a starter plan excluding AI-writing features begins from $49/ month. The Superior, all-access plan begins from $99/ month.
SocialBee
SocialBee AI tools for social media content can boost engagement, maintain consistent branding and transform social media pages to captivate audiences. It offers an intuitive, simple interface with quick-access options.
Pros:
Publish content to major social media networks, including Facebook, Twitter, and LinkedIn.
Curate and generate posts in multiple formats, from RSS feeds to CSV files.
Offers Zapier integrations.
Schedule hundreds of posts simultaneously.
Offers data analytics and metrics
Caption generator saves a lot of time when bulk posting.
Cons:
No inbox or monitoring features
Can't switch between profiles and formats
Captions require proofreading
Pricing:  SocialBee AI offers a 14-day trial. It offers three packages: Boostrap includes 5 social profiles for $29/month, Accelerate includes 10 social profiles for $49/ month, and the Pro plan includes 25 social profiles for $99/ month.
AI Tools for LinkedIn
LinkedIn posts are usually much longer than tweets, so creating content consistently might be challenging for a busy creator. With these tools, you can create better LinkedIn content faster:
Taplio
Taplio is a revolutionary LinkedIn
platform that includes an AI writer, GPT-powered chat assistance, ample inspiration, and a vast collection of popular posts for inspiration. It also includes a 1-click Add to Queue and post automation feature to automate LinkedIn management.
Pros:
Targeted for LinkedIn growth
Integration with Zapier CRM
Offers LinkedIn learning tools and resources
Free LinkedIn Chrome extension for ease-of-access
Simple analytics and KPIs to understand LinkedIn metrics
AI-generated posts and inspiration based on chosen topics
Cons:
Limited customization and integrations
The paid plan is limited to 20 users
Pricing: Taplio gives users a 7-day free trial, after which they offer a paid monthly subscription for $39/ month.
GetGenie
GetGenie is a versatile, quick tool that can help you position your LinkedIn posts. From long-form to short copy, GetGenie helps maintain consistency and creativity on LinkedIn through its professional post template.
Pros:
Eye-catching and easy-to-use interface.
Unlimited training videos.
Monitor competitor ranking.
Integrates with WordPress and Elementor.
Over 30 templates for copy and content, including LinkedIn posts.
Displays relevant Quora and Reddit questions.
Cons:
Content might sound robotic and include plagiarism.
New AI technology that isn't entirely automated.
In comparison to other AI writing tools, GetGenie is slower.
Pricing: GetGenie's starter package is free and includes 1,500 words/ month. You can scale up to their writer package, which includes 12,000 words for $19/ month, or to pro with 40,000 words for $49/ month.
AI Tools for Blogging
Long-form content is the most advanced form of online writing. No wonder why there are so many AI tools that help writers produce more content and benefit from all the perks of extensive blog posts. Here are a handful of most useful:
Jasper
Jasper AI is a popular tool that uses machine learning to mimic human-like writing. The interface produces relevant, original content for different platforms. It's also an excellent tool for developing thoughts and concepts.
Pros:
Integration with popular SEO tools, including Grammarly and Copyscape.
More than 50 AI writing templates to generate copy for various platforms.
Offers 25 languages and dialects. It also offers translation.
Team members can be added.
Suggests topic ideas and creates outlines.
SEO optimization through Surfer SEO.
Cons:
Commands have to be accurate
Articles require editing and fact-checking
Pricing: You can get a 5-day trial for 10,000 words on Jasper AI. Their starter plan is $29 for 20,000 words/month for short content like tweets. Boss Mode is ideal for longer documents like blog posts, starting at $82/month for 100,000 words.
GrammarlyGO
Grammarly has been around for a while and has remained an indispensable Grammar and plagiarism checker. If you want free AI writing tools, GrammarlyGO should top your list. Powered by ChatGPT's machine learning model, the app is designed for writers, students, and marketers to help improve their writing skills, spelling, and typing accuracy.
Pros:
Available for free with your existing Grammarly plan.
Tone, formality, and language can be personalized to sound like you.
Built-in commands and prompts for quicker action.
Accessible through a browser extension
Dedicated app can be downloaded and used with other apps like Notepad
Already part of the Grammarly ecosystem for free.
Cons:
Responses might be incomplete, inaccurate, or outdated
Known to include plagiarized content
Platform shares user data with partners
Pricing: For free users, GrammarlyGO includes 100 prompts/ month. Their Premium pricing plan begins from $12/ month and includes other paid features like writing assistance and plagiarism check.
AI Tools for Copywriting
Copywriting is a special kind of writing – you need to make sure that the final draft isn't just grammatically correct, but also incredibly convincing for people supposed to buy our products. Here are a couple of tools that make this task easier:
Copy AI
There are many generic AI writing tools on the internet. However, Copy AI targets marketers by generating sales copy and promotional materials. It creates engaging copy that addresses the pain points of potential customers.
Pros:
Over 90 templates, including social media captions, headlines, and product descriptions.
Create customized templates
In Supercharge mode, you can share website URLs to extract information.
Generates outlines and drafts from keywords
Pro plan Supports over 25 languages.
Cons:
Some templates are gimmicky and not useful
Requires thorough editing and fact-checking
Some text might be plagiarized
Pricing: Copy AI is free for up to 2,000 words/ month without any restrictions. Upgrading to the Pro plan, starting at $36/ month, allows you to generate unlimited words in different languages.
Rytr
Despite being free, Rytr supports more types of content than other AI writing tools, including landing pages, copywriting, CTAs, Youtube descriptions, and more. The app is geared toward busy content creators who need help creating fast content.
Pros:
Beginner-friendly and easy-to-use interface.
Over 30 diverse use cases and 20 writing tones.
Built-in plagiarism check.
Magic command tool allows writers to create content not present in existing use cases.
User rewards for posting reviews.
Cons:
Sometimes generates irrelevant content
Requires thorough editing
Long-form content generation is difficult
Pricing: For free AI writing tools, you can use Rytr for up to 10,000 characters per month. The Saver plan includes 100,000 characters/ month from $9 onwards, and the Unlimited characters plan is for $29/ month.
AI Tools for Emails
You know how daunting this task can get if you write lots of emails. With those AI writing tools, you'll be able to craft daily emails faster and without embarrassing typos:
Flowrite
Flowrite is one of the few email AI writing tools out there. In addition to helping businesses communicate with prospective clients, it supercharges daily messaging.
Pros:
Tailored brand identity for marketing campaigns
Custom-tone selector from casual to formal to prevent miscommunications
Offers a collection of AI-powered sales, marketing, and personal email templates
Users can create their smart template by adding details and instructions
Google Chrome and website integration available (including LinkedIn)
Usage metrics and generation history
Cons:
Unsuitable for individuals, only geared toward enterprises
Emails still need editing and proofreading.
Pricing: Flowrite offers a free 14-day trial, after which you can choose from their Light plan with 200 messages/ year for $4.40 monthly, Premium plan with 2000 messages/ year for $13 monthly, or their Unlimited plan for $26 monthly. They also offered bespoke packages upon consultation.
The Bottom Line
The AI writing tools named here are merely the tip of the iceberg. Nonetheless, remember that it will take a lot more data, processing power, and effort for computers to replicate human writers' talent.
There is no one-size-fits-all approach to content, but with the help of AI, you can accomplish a lot more in a shorter time. So, are you ready to write like a pro and unlock the full potential of your writing using AI?
Written by