Content Writing has become a no-brainer for most businesses. All brands are expected to deliver exceptional content to their customers that entices them to buy and solves their existing problems.
But writing content like this consistently can be a great challenge, especially when you're a busy business owner who has to wear all the hats in their company.
Luckily, AI has been increasingly helpful in increasing the capabilities of small business owners and content creators. With an AI writing tool, you can maximize your weekly content output without sacrificing quality.
This article will show you the best twelve AI content writing tools to help you achieve this goal.
AI Social Media Writers
Social media may be one of the best channels to reach new audiences for modern businesses. 93% of GenZ customers declared they spend around
5 hours a day
on social media, while more than half of them buy products they see on social regularly.
Here are some of the tools that will help you craft engaging content for all your social media channels:
Postwise: AI Ghostwriter at your fingertips
Postwise is an AI social ghostwriter that helps you craft viral tweets and threads in seconds.
It analyzes your best-performing tweets and uses sophisticated natural language processing (NLP) techniques to recreate your writing style:
Postwise feels like having a ghostwriter that understands your writing style thoroughly
Creating content that generates views, likes, and comments is a science.
Postwise AI was trained on thousands of Tweets written by the best content creators, so you can rest assured that your tweets follow the best social media content practices.
To generate engagement from your followers, you can quickly turn a single tweet into a complete thread: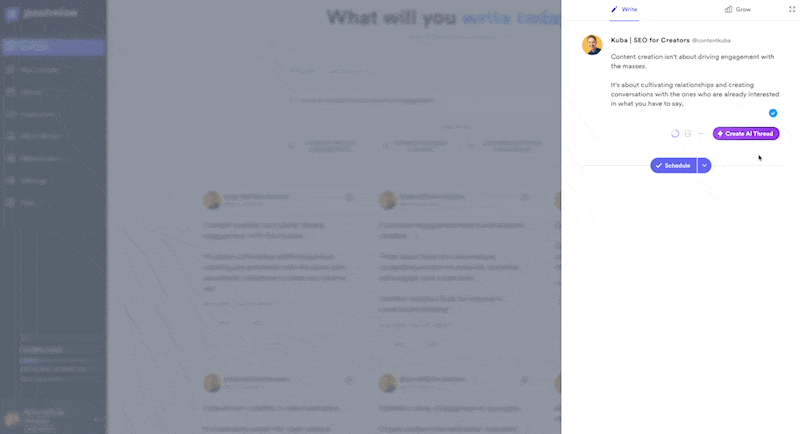 Postwise also lets you schedule the content with just 1 click. This helps you maintain consistency and keep your followers engaged throughout the week.
Best Features
AI-Powered Writing: Postwise uses an AI technology to act as your GhostWriter® that can write engaging content. It's like having a creative buddy who's always willing to help.
GrowthTools™ Suite: Want to see your followers grow like Jack's Beanstalk? We've got you covered with Postwise. GrowthTools™ enables you to optimize tweets for maximum engagement and reach.
Viral Tweets Library: Postwise gives you access to X+ viral tweets and threads, so you can find high-performing content and figure out what resonates with your audience
An easy-to-use interface: Some tools make you feel like you're cracking the Enigma code. Not Postwise. Tweets can be jotted down using a simple, notepad-like editor. It feels almost like a digital diary.
AI Tweet Writer: With Postwise's AI Tweet Writer, you can create engaging tweets. This tool knows exactly what to say to make your followers like your post.
AI Twitter Thread Writer: Have a lot to say but don't know how to make it interesting? You can create threads that catch attention using Postwise's AI Twitter Thread Writer.
Thread Spread: Posts can be spread naturally, so they are not scheduled or robotic.
Scheduling: Timing is everything, and Postwise knows it—no need to worry about missing the right moment when scheduling posts.
Auto Retweet: Let your followers from the other side of the globe keep up with your content with auto RTs. You don't have to worry about repetitive tasks when you use Postwise.
Auto Plug: Plug links to your newsletter or website under the best-performing tweets and threads. Doing this lets you transfer your followers from social media to your channels and turn one-time visitors into long-term customers.
Limitations
No auto-DM: we're still working on our auto-DM functionality to ensure it's the best in class. 😉
No analytics: Postwise does not currently offer an analytics dashboard.
Pricing
Basic Plan – $37 per month
Unlimited Plan – $97 per month (paid annually)
Unlimited AI Tweet Credits
Want to give Postwise a try?
Grab 120 free AI credits
, and find out how it feels to write threads with thousands of impressions in seconds.
Simplified
Unlike other tools in this category, Simplified offers a wide range of features for many social media content creation needs, such as:
AI-driven design (similar to Canva)
Video and animation tools
Social media scheduling (Postwise)
This AI content writer is popular for its user-friendly interface and large selection of content options. You can use it to write articles, blog posts, eBooks, social media posts, and even short stories.
The tool also provides a variety of templates that other tools do not offer, allowing you to create content tailored to your specific use cases.
Pros:
Cons:
Some content may sound robotic and requires a good deal of human input
Tweet Hunter
Tweet Hunter uses GPT-4 to help you generate viral tweets, analyze account performance, and manage connections with followers. The algorithm's primary goal is to help users monetize their Twitter performance.
Pros:
Includes GPT-driven features like auto-retweets, link plugs, DMs, and thread hook generators.
Offers audience data and insight to identify relevant content
Generates tweets based on industry patterns and trends
AI-enabled massive tweet database
Dedicated AI assistant to create engaging Twitter content
Cons:
Analytics is not available instantly
Content is not unique and generally superficial
Pricing: Tweet Hunter offers a 7-day free trial, after which a starter plan excluding AI-writing features begins from $49/ month. The Superior, all-access plan begins from $99/ month.
OwlyWriter AI
An AI writing software created by Hootsuite, a social media management tool.
It helps you write social content and turn web content into social media posts. It also offers ready-to-go prompts that simplify rewriting your best-performing content.
OwlyWriter uses several copywriting frameworks to generate eye-catching content, such as HOOK (Headline, Offer, Unique angle, Kicker), AMP (Attention, Marketing Positioning, Proof), WIIFM (What's In It For Me), AIDA (Attention, Interest, Desire, Action).
Pros:
Simplified content repurposing
Fast idea generation for multiple social media platforms
Using proven copywriting frameworks to craft high-quality social media content
Cons:
Available only to Hootsuite users
Hypefury
Hypefury is a Twitter audience growth and monetization tool powered by artificial intelligence. Hypefury offers the following features:
Content Creation: With Hypefury, users can seamlessly create new content by combining handpicked top tweets from other creators with their own.
Auto-commenting: Hypefury can auto-comment your newsletter, course, or website links below your tweets that perform well to drive email subscribers and sales.
Automatic Retweeting: Your best tweets are automatically retweeted, giving them an extra lifespan and engagement even if you are not using Twitter.
Instagram and LinkedIn Integration: It turns your tweets into Instagram-optimized images, making it easy to build an Instagram audience.
Pricing: Hypefury offers a freemium pricing model, with paid plans starting from $18 per month
SocialBee's AI social media content generator
SocialBee's content generator helps you get unstuck from writer's block while creating and planning content on your social media. You can use various prompts to expand on, rewrite, or summarize your topics and ideate on multiple variations of the same idea.
SocialBee's AI writer will also adjust the writing to your voice and ensure consistent communication throughout your social media channels.
Pros:
Write prompts to generate the perfect social media post
Use random prompts to avoid writer's block
Use prompts to expand on, rewrite or summarize a topic of interest
Use prompts based on best practices for each platform, industry or type of content
Cons:
Available only to SocialBee users
It may generate redundant and robotic content at times
AI Copywriters
CopyAI
Copy AI helps marketers with generating sales copy and content marketing. You can choose from tens of templates applicable to different scenarios and use cases. From blog posts to social media advertising – CopyAI can help you save time and
generate the first draft
of your copy in seconds:
Pros:
Over 90 templates, including social media captions, headlines, and product descriptions.
Create customized templates
In Supercharge mode, you can share website URLs to extract information.
Generates outlines and drafts from keywords
The pro plan Supports over 25 languages.
Cons:
Some templates are gimmicky and not useful
Requires thorough editing and fact-checking
Some text might be plagiarized
Pricing: Copy AI is free for up to 2,000 words/ month without any restrictions. Upgrading to the Pro plan, starting at $36/ month, allows you to generate unlimited words in different languages.
Jasper AI
Jasper.ai is an AI content platform for businesses aiming to
craft engaging copy
across multiple platforms. It offers an advanced AI model that adjusts to your brand style guide and helps you optimize your content creation process to fit your needs.
With the new Jasper Campaigns module, you can create a full marketing campaign without moving between platforms. Jasper also keeps a unified brand identity throughout the entire creation process.
Pros
Jasper API: Jasper can be integrated directly into any platform, whether it's a custom CMS or content platform of any type
Browser Extension: Add Jasper AI as an extension to Google Chrome
The tone of Voice: This tool allows you to choose the brand tone of voice before start writing
Cons
Social media connections: Jasper doesn't offer any scheduling tools
Limited API access: only available in the highest business plan and is chargeable additionally
Pricing: The Creator plan starts at $39/month. You also have a 7-day free trial period when you can generate the first 10,000 words with Jasper AI.
Writesonic
With Writesonic, you can create SEO-friendly content for blogs, Facebook ads, and Google ads.
The platform prioritizes creating plagiarism-free content for over 100 different scenarios. You can also use a powerful editor to proofread and polish your stuff.
Pros
Chatsonic: ChatGPT Alternative (GPT-4 Powered)
Supporting tools: Writesonic offers supporting tools such as Keyword Extractor and Pain-Agitate-Solution framework for copywriting
Botsonic: A No-Code CustomChatGPT Chatbot Builder
Cons
Pricing: The pricing is confusing. More affordable versions of the product use an older version of ChatGPT technology.
ChatGPT reskins: While Writesonic offers a wide range of features, most are just nicely packaged reskin of ChatGPT.
Pricing: Start with a free trial (10,000 words a month). The premium plan starts at $19 but only includes GPT-3 support if you want to create more than 33,333 words a month.
GrammarlyGO
Grammarly is a popular content editing tool, with features like proofreading, style suggestions or plagiarism checking. They recently introduced the GrammarlyGO – ChatGPT-powered machine learning model, designed for writers, students, and marketers to help improve their writing skills, spelling, and typing accuracy.
Pros:
Available for free with your existing Grammarly plan.
Tone, formality, and language can be personalized to sound like you.
Built-in commands and prompts for quicker action.
Accessible through a browser extension
The dedicated app can be downloaded and used with other apps like Notepad
Already part of the Grammarly ecosystem for free.
Cons:
Responses might be incomplete, inaccurate, or outdated
Known to include plagiarized content
Platform shares user data with partners
Pricing: For free users, GrammarlyGO includes 100 prompts/ month. Their Premium pricing plan begins from $12/ month and includes other paid features like writing assistance and plagiarism check.
Semrush SEO Writing Assistant
Semrush's SEO Writing Assistant used to be a tool dedicated to optimizing your existing copy for search engines and improving its readability.
But recently, Semrush announced the addition of AI tools to their Writing Assistant.
The AI copywriting feature, Rephraser, helps you repurpose your existing content and adapt it to various channels. It can also help you fight writer's block by suggesting rephrases and ways to expand on your existing draft.
You can also import your existing website content by pasting its URL into the tool.
Pros:
Detailed SEO suggestions and AI writing capabilities in one place
Rephrases to help you avoid redundant copy
Prompts to help you avoid writer's block
Cons:
Only available within Semrush's Guru or Business subscription
Separate limits on AI capabilities: 1,000 words per month for the Guru plan and 2,000 words for Business
Pricing:
Guru: $229.95 and 800 SEO Ideas units per month
Business: $449.95 and 2,000 SEO Ideas units per month
Frase
Frase compiles two crucial aspects of good web content: great SEO and copywriting.
The app allows you to generate top-notch long-form content in seconds. With their extensive SEO toolkit, you'll be able to quickly analyze the current content ranking high on Google and draft a piece ready to outrank it, fast.
Their AI assistant helps you draft creative briefs and outlines for your freelance writers with a click of a button. After the draft is done, you'll also get recommendations to improve the SEO of the text.
Pros:
Analyze SEO competitors' content easily via an intuitive research panel.
Visualize key SERP metrics like word count, domain rating, and heading count.
Use AI to generate full-length, optimized content briefs in 6 seconds.
Cons:
Sometimes the auto-save feature is flaky.
Frase doesn't recognize British and American dialect
The UI may be a bit confusing
Final Thoughts
AI can significantly improve your content creation workflow. With AI content writers, you'll be able to finish your first draft without dealing with writer's block or long, tedious hours thinking of the best ways to convey your thoughts with words.
If you need help with crafting Twitter content that moves your business forward, grab your
free
120 Postwise credits
, and start working with your own AI Twitter Ghostwriter today.
Written by