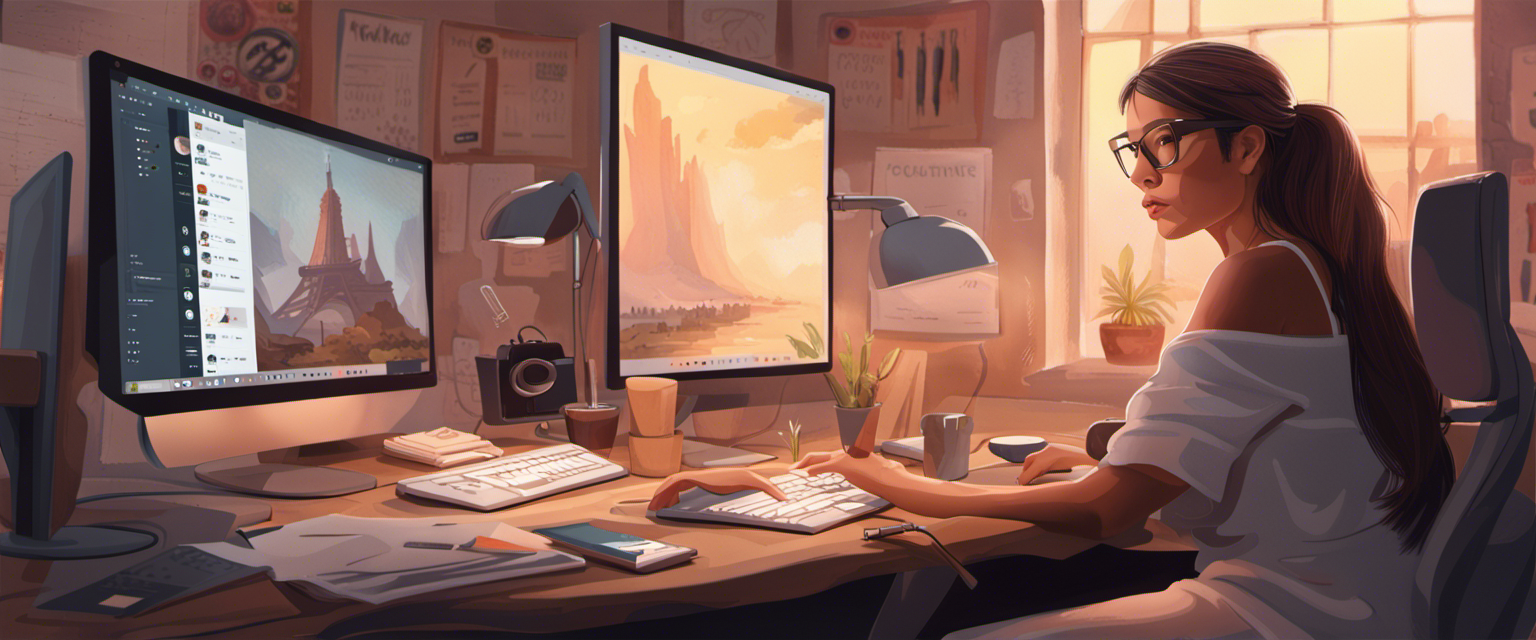 Is managing multiple social media accounts or a busy schedule overwhelming you? Do you find it challenging to Tweet consistently throughout the day, missing out on time-sensitive events or updates?
A Tweet scheduler can help you stay on top of your social media game. It automates your Twitter profile, ensuring your account remains active and relevant even when you're offline.
This list will simplify the process if you're searching for the best Twitter schedule to meet your needs.
Review of Top Twitter Schedulers
Postwise
Price: Starts from $37/ month.
Best for: Content Creators, Twitter power users, social media managers, and small businesses.
Postwise is an all-in-one, robust AI-powered Twitter management tool with the best Tweet scheduler features. It offers various options to plan and organize content ahead of time.
Postwise lets you schedule tweets once or multiple times daily.
While creating your posting schedule, you can customize multiple options:
Timezone: Through Postwise, you can select multiple time zones for your Tweets. This is a fantastic option for creators aiming for global audiences - you can post when your audience is the most active.
Time: Postwise lets you modify timeslots for your posts. You can add multiple posts per day and schedule recurring posts through the week.
Natural Posting: Audience's might be suspicious of automation or robotic-sounding content. Natural posting spaces out your content, adding gaps between posts to make them look authentic and in real-time.
If you manage multiple accounts on Twitter and/or LinkedIn, Postwise allows you to add them all to your account and switch between them without logging in and out constantly:
For
maximum Twitter engagement
, you can set up your calendar to publish tweets at optimal times when your audience is most active. Using your Twitter analytics as reference, you can preschedule content to reach a broader audience.
The steady content stream, even when offline, establishes your presence and keeps followers hooked for more. FOMO (fear of missing out) constantly drives Tweeters to
look out for real-time interaction
. Trending content and engagement opportunities lure people to visit your profile daily.
Do you worry about sounding unnatural and robotic by posting at the same time every day? Consistency might be key but it can become a potential red flag. This might alert your followers that you are using a Twitter scheduling tool instead of posting live.
Natural posting can help you out. It spaces out your Tweets, creating the illusion of real-time tweets.
Postwise offers additional features to help you skyrocket your Twitter presence including
Features:
AI Tweet and Thread Writer: Postwise's custom AI crafts engaging Tweets and catchy Threads based on your past content. Enter your message or keyword to automate your Twitter process from start to finish. Bulk schedule this content to get a kickstart on engagement and follower growth.
Auto-Retweet: Postwise's RT feature allows you to reshare your content and give it a boost to a wider audience. You can automatically set retweets at 1, 6, or 24-hour intervals. This is an effective way to reach more followers. It can also help you connect with followers in different time zones.

Postwise further refines these intervals as it gains insight into your audience's peak activity times and viewing habits. After a set period of time, Postwise removes the retweets to keep your feed clean.
AI Ghostwriter: GhostWriter is equivalent to having thousands of writers working for you around the clock. It analyzes your feed to create authentic content aligning with your writing style, voice, and tone.
GrowthTools Suite: Engineered for engagement, this suite contains several optimized tools to boost followers, sales, and engagement. These tools include an Auto Plug to promote services, products, or your website and convert visitors into lasting fans.
Pros:
Easy to use and ideal for different users, from content creators to digital marketers and influencers.
Uses custom Natural Language Processing (NLP) for relevant content generation and suggestions.
Boosts old tweets and threads through Auto-RTs
Twitter scheduler offers multiple options to plan your content and stay ahead of the curve. Target different time zones and followers by posting throughout the day to take advantage of multiple growth opportunities.
Includes AI-powered Tweet and Thread generation tools.
Cons:
Doesn't offer a free subscription.
Do you want to explore Postwise's Tweet scheduler and other features?
Sign up for a trial
and get 400 free AI credits from us!
Tweet Hunter
Price:  Starts from $37/ month.
Best for:  Entrepreneurs and brands.
Tweet Hunter is an advanced AI tool with a built-in Tweet scheduler. It offers you a straightforward calendar to see upcoming content in one place
The platform supports multiple time zones, recurring tweets, and bulk scheduling. It also supports natural posting and auto-scheduling to keep Twitter handles active yet not robotic.
Features:
AI-powered Tweet generation
Color-coded tweet scheduling so you can differentiate Tweets and Threads
Auto DMs, plugs, and retweets
AI chatbot for inspiration and help
CRM platform, including a lead finder
Pros:
In-depth analytics features
Scheduling options are impactful
Cons:
Analytic viewing is limited. You can only see them after a certain period depending on your subscription.
Content isn't unique or niche-specific.
AI output is generic and lacks customization and authenticity.
Lower-price plans are limited in terms of feature access.
Hypefury
Price: Free basic plan for 1 account. Paid plans start from $18/ month.
Best for Entrepreneurs and small businesses.
Hypefury is a social media automation tool that helps you manage multiple accounts. Its suite includes a Tweet scheduler to plan your tweets ahead of time and reduce manual posting.
The platform can create a consistent Tweet schedule, synched up with different time zones. Hypefury also offers bulk and repetitive scheduling to promote products or share mass content.
Features:
Multiple Twitter account support.
Thread preview before posting
Quote generator allows you to find relevant content when you run out of ideas.
Spaced out thread tweets to build momentum
Auto DMs, Plus, and Retweets
Pros:
Detailed analytics for valuable insight
Includes a follow-up tweet option for top-performing content
Supports cross-posting Tweets to Instagram and LinkedIn
Cons:
Users report delayed posting times despite its Tweet scheduler
Despite offering multi-platform support, it gets all its inspiration from Twitter
SocialBee
Price: Starts from $29/ month.
Best for: Digital marketers, social media managers, agencies, and small businesses.
SocialBee is an all-around social media management tool. Users can create multiple optimized content calendars from a single interface for different social media profiles.
The organization-centric platform offers automatic Tweet scheduling and supports time-sensitive and recycled posting. You can create content sequences without fresh ideas or inspiration within a few clicks.
Features:
Built-in AI writing tool for social media captions
All-in-one management tool for all your social media needs
Content categories to organize posts according to interests
Analyze competitor's audiences to adapt your target market
Analytics dashboard for all your social media platforms
Offers a unique concierge service at an extra cost. You can use these to connect with SocialBee's in-house specialist team.
Pros:
Separate editors for each social platform for optimized posts with no character limits
Concierge service and AI removes the guesswork
Customer support offers extensive guides on social media and marketing.
Content categories make it easy to find content based on topics.
Cons:
The interface isn't sophisticated
Automatic schedules don't consider when followers are most active
The audience analysis feature lacks in-depth insight
Can't export analytics or reports
Hootsuite
Price: Free basic account for up to 3 social profiles. Paid subscriptions start from $99/month.
Best for Businesses and teams of all sizes.
Hootsuite is an all-inclusive social media management and scheduling tool. It is packed with various essential to complex solutions for different criteria. This includes matching your Tweet scheduler needs with its
The platform allows auto-posting, bulk scheduling, and custom recommendations on when to post based on activity rates. Hootsuite also boasts multiple schedules for different platforms instead of cross-posting.
Features:
Monitor all your social media channels with a stream feed. You can also respond from this tab.
Extensive analytics suite to view and evaluate individual networks.
Collaboration and assignments with other team members
Template library and copyright-free images for social posting
Social media listening for lead generation
Find trending hashtags to use in your posts
Pros:
Recently added OwlyWriter - an AI content generator and ideas tool
Supports a wide range of social media networks
Extensive app integration library
Has iOS and Android mobile apps
Has free online courses and certifications
Cons:
Expensive price plans compared to other Twitter scheduling tools
Steep learning curve because of the complicated interface
Supports limited URL shorteners for auto DMs
Buffer
Price: Free basic account for up to 3 channels. Paid subscription begins from $6/ month/ channel.
Best for: Small businesses, marketers, influencers, and content creators.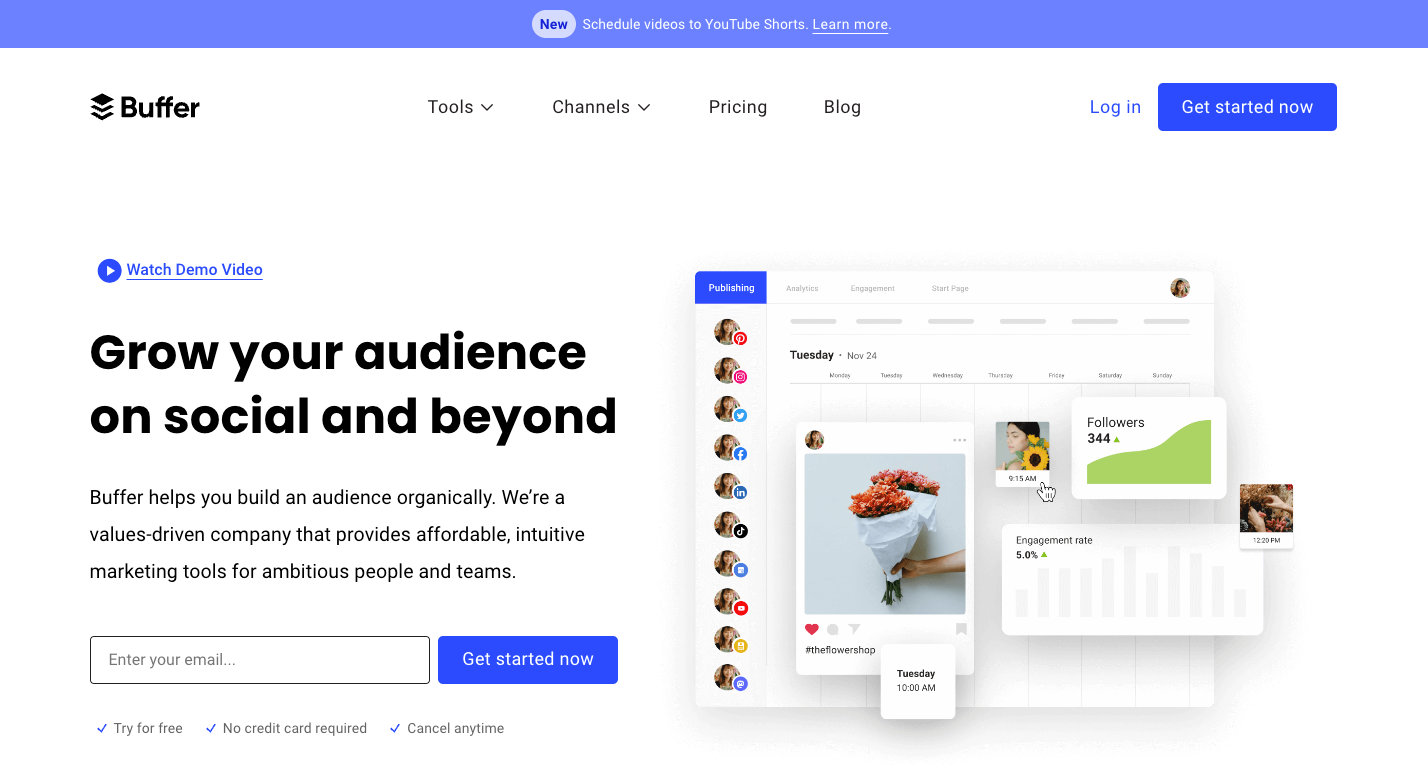 Buffer is a popular social media platform that schedules, publishes, and analyzes cross-platform posts.
It aims to simplify managing multiple profiles through consistent scheduling, flexible time zones, and link tracking. Buffer relies on a queue-based system to make this a reality- each post is added to their Queue to be automatically published at a designated time.
Features:
Supports multiple social media platforms, including TikTok, Twitter, Facebook, LinkedIn, Instagram, and Pinterest
Allows collaboration with multiple team members
Detailed social media analytics to evaluate its performance
Has a dedicated business social media management solution
Pros:
Easy to set up Twitter scheduling tool
Simple cross-posting to various apps
Cons:
Analytics are primary and don't offer in-depth insight
Random character limits for Facebook and Twitter
TweetDeck
Price: Free for Twitter Power users.
Best for Twitter Power users, social media managers, small businesses, and content creators.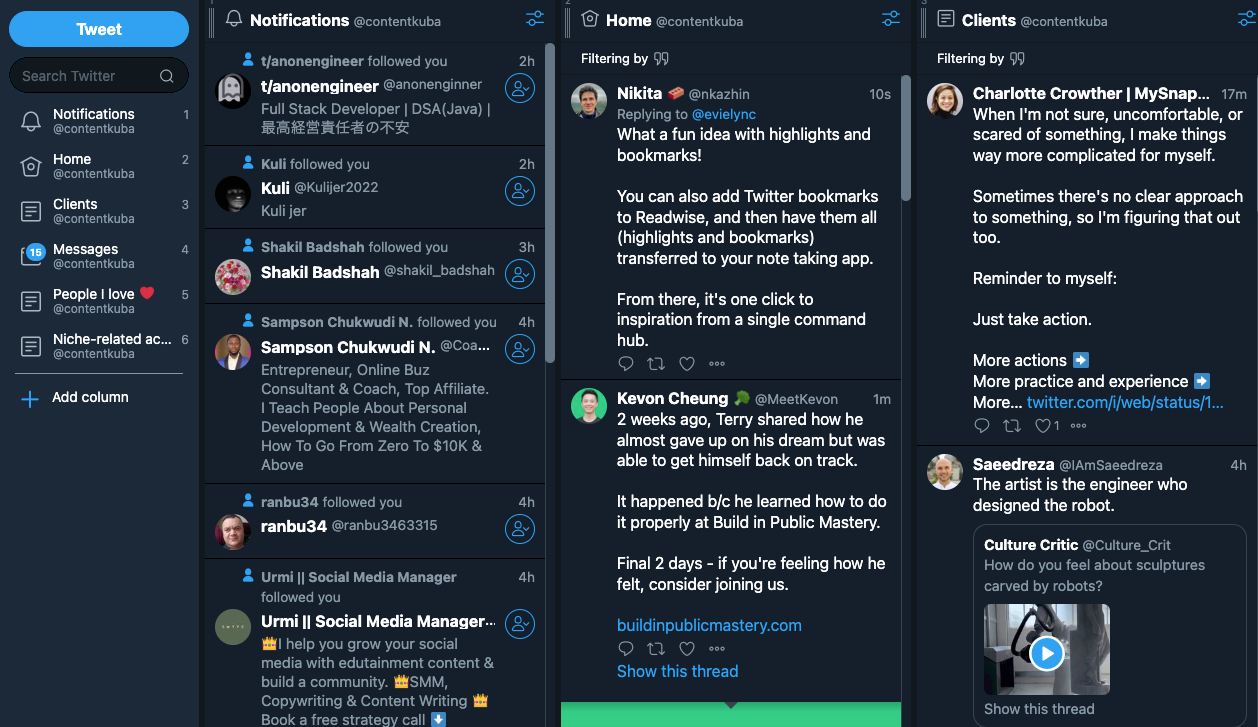 TweetDeck is Twitter's proprietary management tool with a built-in Tweet scheduler. It aims to simplify the Twitter experience by offering various advanced features.
The TweetDeck Scheduler allows you to bulk schedule tweets for multiple accounts simultaneously.
Features:
Customized columns so you can view content that matters most to you first.
Multiple Twitter account management
Powerful search function to find keywords and trending topics
Receive all your Twitter notifications through TweetDeck to stay engaged with followers
Advanced Tweet filters to find relevant content
Detailed analytics about Twitter activity
Pros:
Owned by Twitter - will never violate its API
The search function delivers specific results
Easy scheduling for multiple Twitter accounts
No character restrictions
Cons:
Busy platform - users have reported lags and muting
Doesn't offer AI tools or content generation
Will be restricted to Twitter Power users
Iconosquare
Price: Starts from $49/ month.
Best for: Large teams, businesses, and agencies of all sizes.
Iconosquare is a specialized analytics and management tool. Using the Iconosquare Tweet scheduler is a game changer for users who like to share visuals.
Its scheduler features a slot-based, drag-and-drop Twitter scheduling tool. You can preview Tweets before scheduling them at the best time to post on your social account. After publishing, you can track post performance through Iconosquare's analytics dashboard.
Features:
In-depth analytics and reporting for more social networks than publishing (including TikTok and LinkedIn)
Integration with Twitter, Facebook, and Instagram
Messages Inbox for Instagram and Facebook
Categorizes posts according to labels and campaign-based albums
Saved hashtags, captions, and media library
Pros:
Offers additional free tools like Omnilink (bio-generator) and Twinsta (turn tweets into Instagram posts)
Detailed performance stats for data-driven strategies
Simple publishing and scheduling tools
Suggests what time to post based on your audience
Includes an AI caption generator
Cons:
No messaging feature for Twitter
AI-generated content is limited and impersonal
Separate screens for each profile
Optimized for Facebook and Instagram
How Do Tweet Schedulers Compare?
Postwise vs. TweetHunter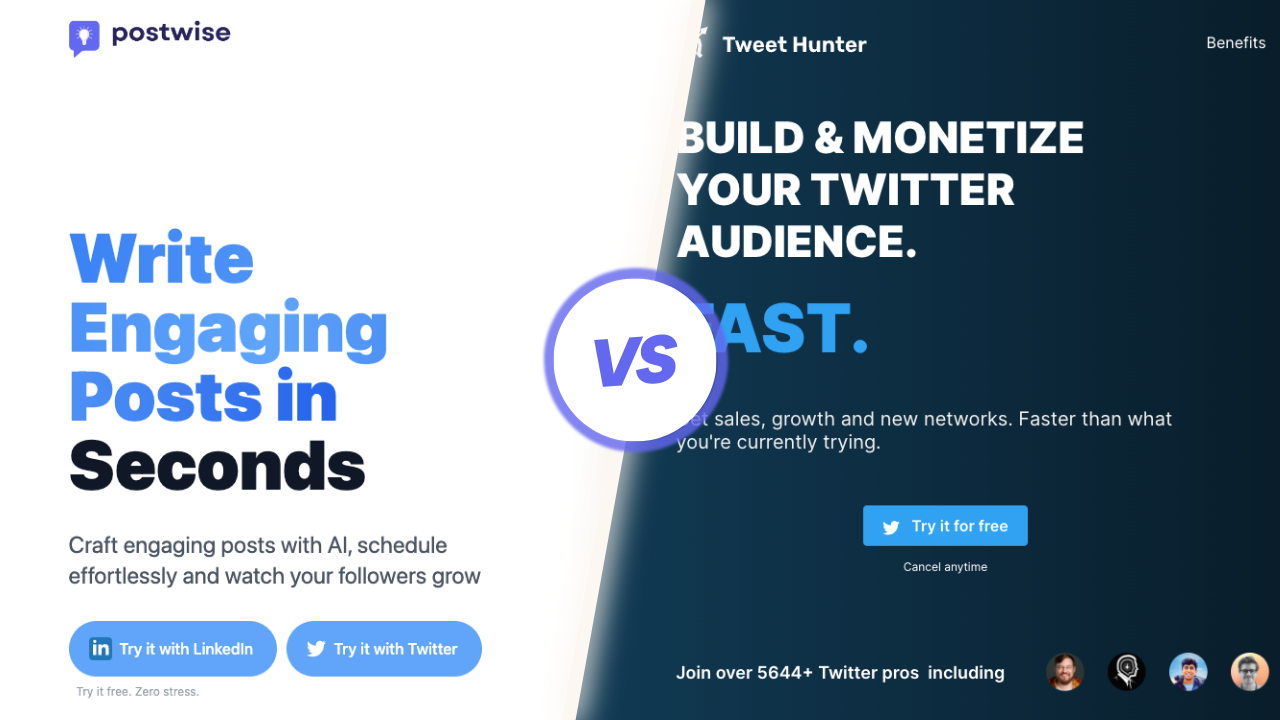 Postwise and TweetHunter are both Twitter-specialized tools, but Postwise also offers a seamless integration with LinkedIn.
TweetHunter is specialized in creating viral Tweets based on other people's content. Postwise focuses on content that resonates with and engages your audience.
Both platforms offer a massive library of viral Tweets to help you generate ideas for your content. However, Postwise's library includes threads and is tailored to inspire you. You can filter topics and find content that works for your followers instantly.
Postwise leverages powerful AI algorithms to create high-quality tweets that are engaging and well-written. It uses a custom AI model to generate tailored content that fits your intended voice and opinion.
Postwise can generate several insightful tweets that add to your perspective depending on your input prompt. TweetHunter's AI focuses on tweet length, hashtags, and trending topics.
In terms of scheduling, both interfaces offer similar features. However, Postwise's scheduling tools are easy-to-use even if you aren't tech-savvy.
Buffer vs. Hootsuite
Buffer and Hootsuite aim to simplify social media management. Buffer is a more straightforward, user-friendly platform. It's better suited for individuals and businesses because of its limited scheduling, analytics, and collaboration features.
Hootsuite is a powerful platform with a vast tool suite, including a content library, social inbox, and in-depth reporting. It also offers more advanced scheduling options like time zones and recurring posts.
Both Buffer and Hootsuite offer team collaboration. But with Hootsuite, you can assign tasks to individual members and track post changes.
SocialBee vs. TweetDeck
SocialBee and TweetDeck increase team collaboration and streamline Twitter management. SocialBee is a flexible tool for different social media networks. The interface offers AI-powered writing, content inspiration, and hashtag suggestions based on your topic ideas.
TweetDeck is explicitly designed for Twitter. It can help you streamline your Twitter workflow through one-click replies, retweets, and scheduling. SocialBee lets you schedule tweets and share them across various platforms.
TweetDeck includes multiple Twitter account management through its column-view content tracking. It is ideal for people who want to get more out of Twitter, but it doesn't offer any AI tools, yet it's very complex and tricky to learn.
Iconosquare vs. Hypefury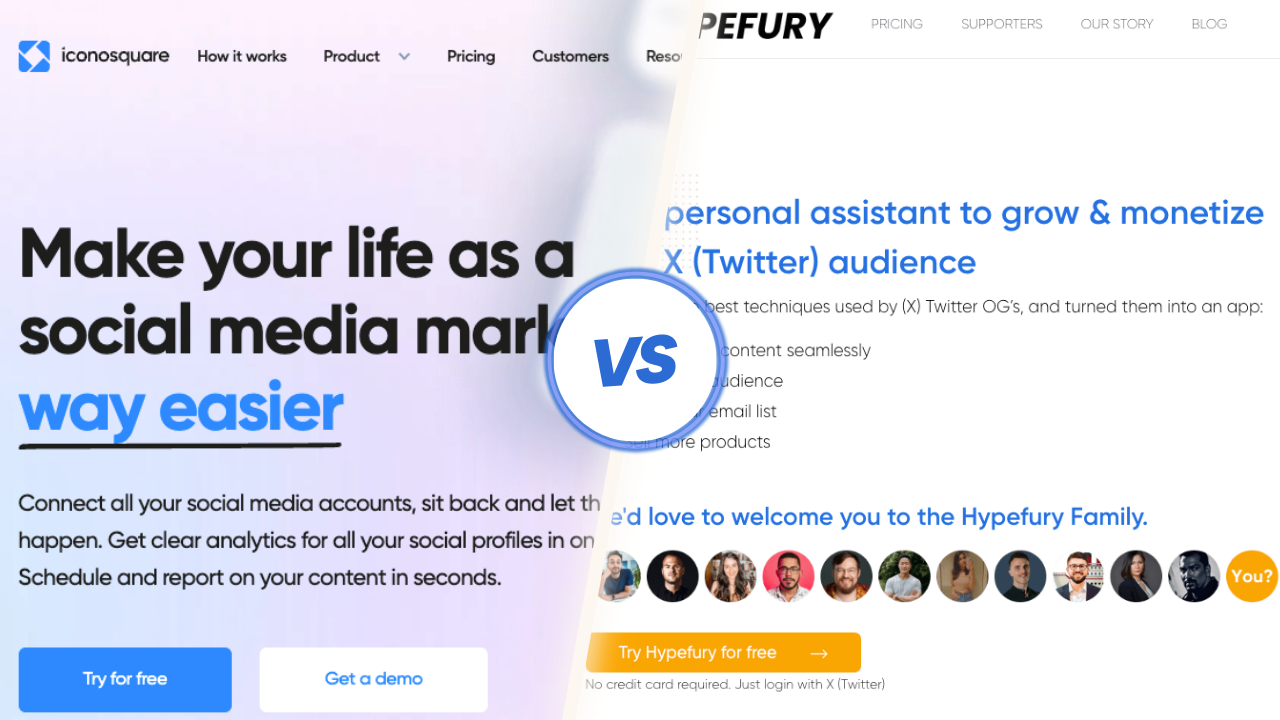 Iconosquare is an all-inclusive social media tool. It allows you to schedule cross-platform posts and automate interactions through DMs and replies
You can manage your TikTok, Instagram, LinkedIn, Facebook and Twitter profile from Iconosquare's interface. Although Hypefury offers the same features, it is restricted to LinkedIn and Instagram.
Hypefury offers basic analytics on Twitter performance, like impressions and engagements. In comparison, Iconosquare analyzes your social media thoroughly. It offers detailed insights that help optimize content strategies.
Iconosquare allows you to customize social media profiles through its interface. On the contrary, Hypefury doesn't offer such customization. Its primary goal is to leverage existing content to create content that delivers results.
How to Effectively Use a Twitter Scheduler
Using a Twitter scheduler effectively involves finding the right balance between leveraging the tool's features and your unique needs. Here's a step-by-step guide to help you navigate and make the most of your Twitter scheduling tool:
Content Planning
Research and understand your target audience's interests and behaviors. Your content should resonate with them. Develop your content strategy keeping this information and your Twitter account's objective (such as engagement, increased brand awareness, or driving website traffic) in mind.
Your strategy should outline your Tweet content. Will you include promotional content or research and insight? Organize your content in a schedule using an app like Postwise. Remember to include posting frequency, time slots, and special themes.
Balancing Automated and Real-Time Tweets:
Automated tweets are ideal for recurring or timeless posts unrelated to specific events or trends. They provide relevant insight regardless of context, like practical solutions, advice, or tips and tricks. Tools like Postwise can help you manage these posts effectively.
But, allocating time for live interaction with your audience is crucial. Respond to mentions, messages, and comments. You should engage in relevant conversation and trending topics when relevant to your niche. Although automation saves time and maintains consistency, live tweets add a personal touch.
Monitor and Adjust your Strategy
Regularly review Twitter analytics to understand how impactful your strategy is. Based on this insight, refine your content strategy regularly.
Focus on producing fresh, exciting content that resonates with your target audience while avoiding content that doesn't. Stay on top of current events, hashtags, and trends to align your scheduled content.
A/B Testing
A/B testing is a comparison of two tweet versions. Test tweet formats, visuals, and CTAs to see what drives engagement.
Twitter is a dynamic platform, and audience behaviors are ever-evolving. Even with a Tweet scheduler, it's essential to remain flexible and adapt your strategy continuously for success.
Factors to Consider When Choosing a Twitter Scheduler
When selecting a Twitter scheduler, evaluating its features is necessary to ensure it meets your needs. Here are a few key factors to keep in mind:
Ease-of-Use: The Twitter scheduler must have an intuitive and user-friendly interface. Look for tools with a clean layout and straightforward controls to easily navigate and schedule tweets. This will eliminate extensive learning curves and frustration, saving you considerable time.
Scheduling Features: Consider the scheduling options the platform provides. Features like bulk scheduling, custom date and times, recurring tweets, and flexible time zones mean it's easier to plan strategically. You can also reach your target audience optimally to streamline content management.
Automation and AI Enhancements: Tools like Postwise include additional AI capabilities that generate buzz-worthy Tweets and Threads. This saves considerable brainstorming time and effort so you can focus on long-term strategizing.
Team Collaboration: This feature is essential for businesses and teams. It facilitates coordination and communication. Multiple users can work together, assign specific roles, and maintain access controls for efficient teamwork and coordination.
Price and Budget: Not all tools are affordable. Evaluating price plans will help you find a tool that fits your budget without compromising essential features. Some tools like Postwise offer free credits and trials so you can give the app a test run before taking the plunge.
How Does the Twitter Scheduler Help You Grow on Twitter?
Posting consistency is crucial for Twitter's growth. It keeps your followers engaged and increases the chances of reaching a broad audience. A Twitter scheduler facilitates this by allowing you to plan Tweets well in advance.
Some Twitter schedulers have AI capabilities that suggest the best time to post. Platforms like Postwise include natural posting. This feature spaces out your Tweets to make them look live to increase engagement through retweets and replies.
With a scheduler, you can also target a global audience and productivity. Instead of staying up late to meet different time zones, you can channel your effort into crafting engaging Tweets. Diversify your content strategy to keep your feed interesting.
A Twitter scheduler fuels your Twitter growth by enhancing your brand reputation. The more active and consistent your Twitter feed is, the more credible it appears.
FAQs
How to Schedule Multiple Tweets in Advance?
Head over to Postwise's Writer to generate a Tweet or Thread. You can also use the AI writer to instantly generate tailored content that aligns with your brand voice and topic of choice.
Then, once you're happy with the results, hit Schedule and let Postwise take over. You can edit the scheduled time and date of your Tweet from the Queue page.
How to See Scheduled Tweets on Mobile
Open the Twitter app on your mobile device. Tap on the compose button and select Unsent Tweets in the top-right corner of your screen. From the Scheduled tab, you can view a list of all scheduled tweets. You can also view Scheduled Tweets from your mobile browser.
How to Schedule Your Tweets on Twitter
On Twitter's app or website, compose a Tweet as you normally would. Then, click Schedule in the bottom left of the interface screen and select the date and time. When you click Schedule, the Tweet automatically gets added to your Queue.
You can also use TweetDeck to schedule your Tweets; after signing in to your account, click the Tweet button. Select the account you'd like to Tweet from and compose your content. Click the Schedule Tweet button, adjust the date and time, and confirm your selection.
Tweets can be scheduled up to 60 days in advance on Twitter. Did you know Postwise offers unlimited scheduling?
How to Edit Your Scheduled Tweets
Select the Queue tab from the sidebar. Then, click at the tweet on the schedule you want to edit. And voila! Postwise will open an editing window where you can schedule both tweets or threads scheduled via the app.
How to delete scheduled Tweets
To delete a scheduled Tweet or thread, simply open your Queue and hover over the post you want to delete. A delete icon will appear. Select it to delete the Tweet from your schedule.
This will not delete the post entirely. Postwise will move the tweet or a thread to the Drafts section, under the My Content tab:
What to consider while scheduling tweets:
To ensure your scheduled Tweets deliver on intended goals, consider the following:
Target audience demographic, including their time zone
Past tweet engagement metrics to identify when your audience is most active and responsive
Avoid spamming and over-posting content - use Postwise's Natural Scheduler to space-out posts
Stay ahead of events, trends, and holidays - schedule Tweets that capitalize on these events
Strive to maintain an active presence without overwhelming your followers with excessive content
Avoid clashes and overlapping scheduled Tweets to maximize the reach of each post
Don't hesitate to recycle valuable, top-performing content.
These factors are essential to optimize your Tweet schedule.
Conclusion
If you're an active Tweeter, a Tweet scheduler is essential for your tool stack. Your options range from AI-enhanced platforms like Postwise and niche Twitter software to all-in-one social media management tools. Each Tweet scheduler has its features, pros, and cons to help you make an informed decision.
Ultimately, the choice depends entirely on your priorities and unique criteria.
Sign up for Postwise
today to learn how a Twitter Scheduler can instantly boost your online presence!
Written by