Managing a LinkedIn account and creating a steady stream of engaging content to grow your personal brand is challenging. Especially when you're a busy professional with little time for consistent content creation.
LinkedIn scheduler is a must-have in this scenario. Such social media management tools automate your LinkedIn profile(s), from scheduling posts to ensuring you are super responsive. Simply put, they save you time and boost productivity.
Here's a list of the top 12 LinkedIn schedulers to help you get started:
Top 12 LinkedIn Schedulers in 2023
Postwise
Pricing: Starts from $29/ month.
Postwise is an all-in-one tool for your LinkedIn needs. You can see your posts laid out in a simple, flexible calendar that can be adjusted to meet your engagement goals. This includes reaching precise groups of people and different time zones through advanced bulk scheduling.
Its intuitive content queue packs several customization options, so you can effortlessly schedule LinkedIn content. For example, randomized posting spaces out your LinkedIn content for optimal visibility and reach: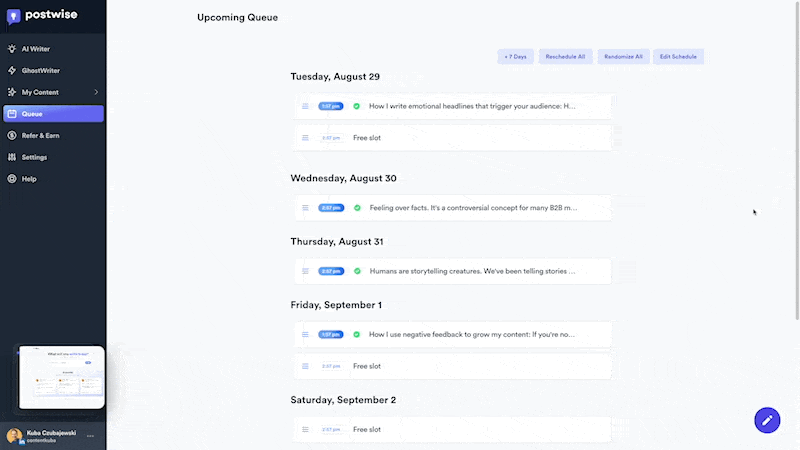 In addition to its scheduling capabilities, Postwise includes an AI Writer to help generate relevant, catchy posts for your LinkedIn. Postwise AI (powered by a custom-made LLM, not GPT-3/4) learns your style from the previous posts you've written or the instructions you provide to your AI Ghostwriter. Postwise then analyzes your instructions to generate customized, unique posts that align with your style and voice.
After the posts are done, you can schedule them directly from the interface to multiply your content output.
Features:
Auto Plugs: Promotes your products and newsletters by automatically posting links after your LinkedIn post receives a certain number of likes.
Post Carousels: You can schedule and post slide carousels on LinkedIn profiles to highlight product features, updates or explain step-by-step processes. Carousels are excellent for visual storytelling and sharing in-depth, complex information.
Bulk Scheduling: Postwise offers several paid plans with at least 6 months of advanced bulk scheduling. Their unlimited plan lets you schedule unlimited LinkedIn posts.
AI Content Writer: The platform's custom AI crafts exciting, industry-relevant content. You don't have to worry about coming up with compelling posts or finding the words to explore your ideas - Postwise handles everything from content creation to scheduling LinkedIn posts.
Multiple Account Management: Postwise's Boss and Unlimited upgrades offer at least 5 connected accounts. You can manage multiple, LinkedIn business pages, and personal profiles without additional subscriptions. You can also invite team members to collaborate and post content from their accounts.
Pros:
Includes personal AI model to generate new LinkedIn content based on your preferences.
Seamless and strategic LinkedIn scheduling to save time and effort.
Offers a free 7-day trial.
Automatically link products, newsletters, or websites to top-performing content.
User-friendly yet comprehensive interface for users of all expertise levels.
Users can also create and schedule Twitter content.
Cons:
Doesn't offer a free plan.
The inspiration library is limited to viral Tweets.
What People Say About Postwise:
Postwise is used by leading content creators and businesses. Here's what they say about it: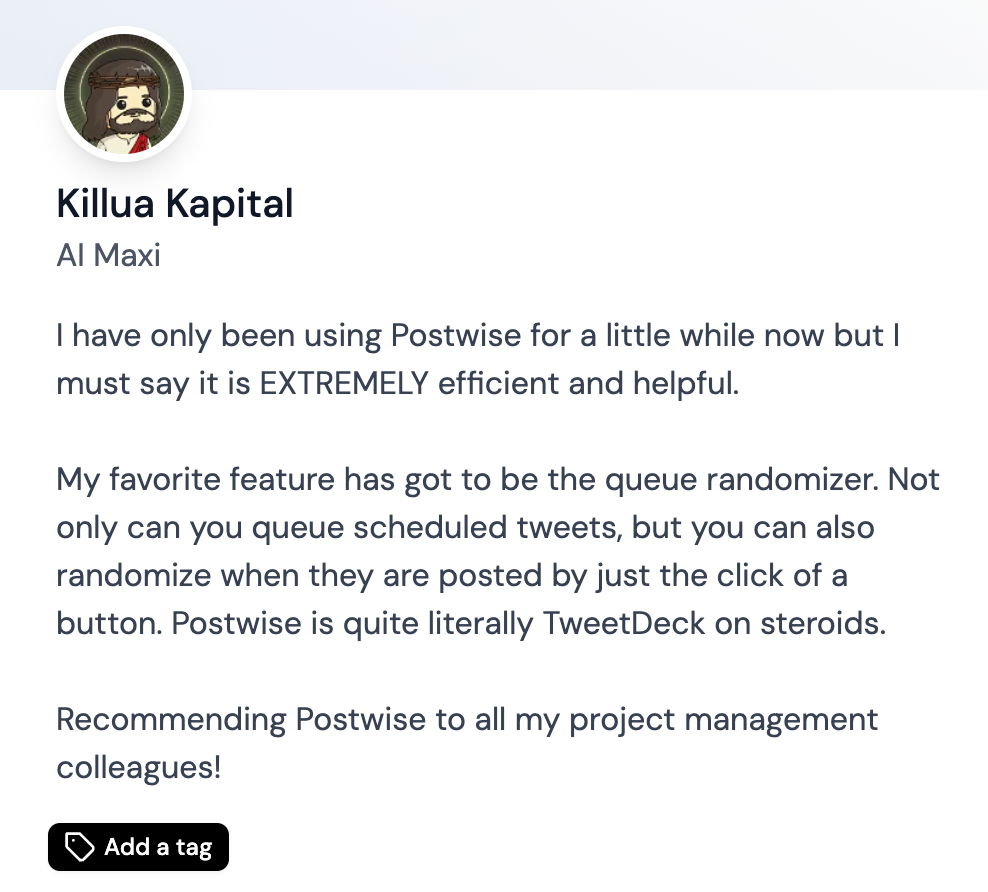 Do you want to try Postwise for free?
Get 400 AI credits
from us and begin scheduling your LinkedIn content instantly!
Taplio
Pricing: Starts from $39/ month.
Taplio is a dedicated LinkedIn scheduling tool. It offers users a robust queue system to schedule posts at optimal times. The platform also has built-in GPT-4 powered AI content creation and an inspiration database to help you create LinkedIn content quickly.
Features:
GPT-4 AI writing assistant to generate LinkedIn posts based on audience preferences and contextual comment replies.
LinkedIn Inspiration library with over 4 million viral posts.
Search for viral posts for top-performing niche or industry-relevant content.
Industry News Generator discovers the latest news to share updates in real-time.
Built-in CRM tools include a contact database and sales navigator, so you can search for people who interact with your posts.
Customized LinkedIn messages.
Free Google Chrome extension.
Pros:
Supports LinkedIn text, photos, videos, and document scheduling.
Integrates with other CRM tools via Zapier for lead generation.
Offers comprehensive LinkedIn performance metrics and analytics.
CRM features boost networking and relationship building.
Cons:
Expensive pricing considering it is only LinkedIn-focused.
Limited customization options for complex content.
AuthoredUp
Pricing: Free plan + paid plan starts from $16.63/ month.
AuthoredUp is a convenient Chrome extension turned web app LinkedIn scheduler. The app connects with your account instantly to analyze your existing content. Using this information, it suggests ideas to help you brainstorm, publish and schedule new LinkedIn posts.
Features:
Preview posts to optimize your post hook.
Format LinkedIn posts through bold or italic font sizes and emojis.
Integrated 120 LinkedIn template library
Suggests keywords and hashtags to boost engagement
Collects, identifies, and reuses top-performing LinkedIn posts.
Advanced LinkedIn content analysis, including post spotlights, hashtag impact, and important metric snapshots.
Pros:
Collects all posts using the platform - these can be exported in CSV format.
Offers post previews and keyword suggestions for a vigorous posting experience
Tailored specifically for LinkedIn performance
Affordable plans and a 30-day free trial
Cons:
The free plan is limited to 10 posts/ month
Limited tools in comparison to other comprehensive options on this list
Doesn't offer AI content creation despite its template library
Scheduling tools are basic and don't offer much flexibility
Buffer
Pricing: Free plan + paid plans start from $5/ month/ channel.
Buffer easily attracts new audiences with its across-the-board social media management tools to create, schedule and track LinkedIn posts. The app includes a LinkedIn scheduler, hashtag suggestions, and cross-platform posting to other social networks like Facebook, Twitter, Instagram, and TikTok.
Features:
Automated publishing, scheduling, and calendar management
Connect LinkedIn pages and profiles with other social media channels, including Facebook pages, Instagram accounts, and Twitter.
Add clients and team members with designated access levels
Customized individual platform management to optimize posts for each social network
Draft, approve, and schedule posts from multiple-devices
Queue and calendar view for ultimate-flexibility
Analyze Platform gives users a deep dive into key metrics like engagement rate, impressions, and follower growth.
Pros:
Multiple apps and social profile integration, including Zapier and Canva.
The browser extension allows easy content scheduling as you create or source it
Flexible pricing plans depending on the number of channels
The free plan includes 3 channels
14-day free Team plan trial
Cons:
The free plan is restricted to scheduling 30 posts in advance
AI features are in beta testing and lack advanced generative capabilities
SocialBee
Pricing: Starts from $24/ month.
SocialBee streamlines LinkedIn content posting with its automated workflows. Users can use the LinkedIn scheduler to create, schedule, and ultimately publish posts to boost brand presence on multiple platforms.
Features:
Schedule text, images, and videos on LinkedIn and other social media platforms, including Facebook and Twitter
AI-powered content generation
Social inbox for easy handling of all comments and mentions
First LinkedIn comment can be scheduled in advance to spark conversation
Import RSS feeds to create automatic LinkedIn posts
Pros:
Organizes content into multiple classes and contents for easy-strategizing
Integrates with Canva and Giphy for instant uploads
Custom posting schedules for each platform
Robust analytics features
Recycle posts that aren't time-constrained to boost impactful, top-performing content
Browser extension for accessible content curation
Cons:
The initial learning curve as features aren't aimed at beginners
Developed solely for scheduling. Other features aren't as advanced
Can't switch calendar formats between weekly or monthly - restricted to daily view
Social Pilot
Pricing: Starting from $30/ month.
SocialPilot is a reasonable LinkedIn scheduler aimed at businesses of all sizes. Using this platform, you can categorize your accounts into groups, making publishing content easy. You can also tailor your content to LinkedIn's API and add carousels.
Features:
Manage over 50 social profiles instead of using multiple social media management tools.
Schedule and publish to multiple platforms, including LinkedIn, Twitter, Pinterest, and Google My Business.
Upload customized branding like colors and logos to the interface
Team management with different access and approval levels
Auto-share blogs through their RSS feeds
Suggests relevant and trending topics based on keywords and followers
Pros:
Directly upload images or select from a URL for LinkedIn posts.
Customized posting schedules for each account.
Allows tagging on scheduled posts
Supports images, GIFs, and other media formats
Bulk schedule up to 500 posts at a time, including images, text, and other media
Cons:
Brandwatch
Pricing: Customized packages.
Brandwatch follows a data-driven approach to scheduling. The platform was primarily developed for social listening and managing brand consumer data. Its basic plan includes access to LinkedIn calendars, social inboxes, and a performance dashboard. Brandwatch also includes a campaign scheduler for easy collaboration.
Features:
Easily schedule and publish content across all social platforms
LinkedIn ad scheduling and management, including budget optimization
Social inbox for all platforms and feeds
Suggests the right time to post for targeted customers
Social media monitoring by tracking conversations about your LinkedIn profile across different online platforms
Customized reporting and analytics of all connected social profiles
Custom Link in bio lander and URL shortener that can be tracked
Pros:
Store approved assets for future scheduling in a shared content library
The social listening feature helps identify problems, target audiences, and potential opportunities.
Personalized experiences and audience management
Smooth team collaboration and messaging through notes and labels
Cons:
Specialized for social listening, not scheduling
Doesn't auto-publish posts
Basic scheduling features
Postcron
Pricing: Starts from $8/ month.
Postcron is a powerful LinkedIn scheduling tool that enables simultaneous posting across different channels. You can schedule individual or bulk LinkedIn posts with custom publishing times and dates.
Features:
Offers a Content Gallery with keywords and hashtags targeted to your audience demographic. These posts can be used as references or directly shared through its interface.
Connects to LinkedIn, Google+, Facebook, Twitter, Pinterest, and Instagram.
Automatically watermarks published images with your brand logo
Auto-scheduling according to a predefined schedule
Pros:
Flexible and affordable pricing
Offers a referral program for massive discounts
Users can also track performance metrics
Flickr, YouTube, and Pinterest integrations
Upload up to 1000 posts at a time from Google Docs or Excel files
Cons:
Doesn't support carousel posting
Some features like different timezones are platform-limited
Sprout Social
Pricing: Starts from $249/ month.
Sprout Social is a LinkedIn scheduler recommended for businesses with multiple LinkedIn pages and more extensive requirements. It includes a Smart Inbox to manage conversations across all your social networks. Sprout Social's LinkedIn integration allows you to share posts and analyze their performance.
Features:
Real-time team collaboration and brand monitoring.
In-depth analytics on all posts through its interface
Integrates with LinkedIn, WhatsApp, Google Business, Pinterest, and Twitter.
Supports Canva, Google Drive, and Dropbox.
Offers content suggestions and an asset library that aligns with your follower interests
Pros:
Excellent customer support and onboarding
Content calendars and automated schedules can be shared easily with teammates.
Wide range of business tools and features
You can run social media promos and contests through the app
Cons:
Sendible
Pricing:  Starts from $25/ month.
Sendible is a multi-platform scheduling tool. You can customize its LinkedIn scheduling tool according to the features you need. You can also reply to comments and analyze content performance through the app for LinkedIn.
Features:
Individual, bulk, and queue scheduling options
Draft seasonal posts in advance on your calendar
Preview posts before LinkedIn publishing
Supports LinkedIn, Facebook, Twitter, and Instagram
Offers detailed insight on top-performing posts, best times to post, and more
Pros:
Integrates with Canva, Google Drive, and Dropbox
You can create customized report templates for analytics
Designed explicitly for post scheduling
Excellent Customer support
Cons:
Steep learning curve - takes some time to get used to navigating the interface.
Loomly
Pricing: Starts from $26/ month.
Loomly was created by social media managers who understand various content needs inside-out. Initially created as a scheduling tool, the platform now includes content publishing, team collaboration, and marketing analytics.
Features:
Manage organic and paid posts from a single interface
Team collaboration through updates and comment notifications
Suggests trending post ideas and best practices
Dedicated brand library to store notes, links, photos, and templates
Automatic LinkedIn, Facebook, Twitter, and Instagram publishing
Pros:
Includes community management tools to connect with followers
Real-time analytics on post-performance
The workflow includes review and approval steps
Insightful guidance on how to create and schedule engaging LinkedIn posts
Cons:
Some users report calendar glitches
Notifications can be confusing or get missed
Agorapulse
Pricing: Free plan + paid plan starts from $49/ month.
Agorapulse is another robust Linkedin scheduler and social media management tool. The interface has a central, unified calendar to easily bulk schedule LinkedIn posts. You can import RSS feeds, CSV files, or image sets and turn them into catchy posts within a click.
Features:
Includes a unified, central inbox to monitor and respond to user feedback like comments, chats, and mentions.
Real-time team collaboration, shared calendars, and inbox viewing for synchronization.
Content organization strategies like labels and queue categories
Built-in editing tools like a video thumbnail selector. Saved hashtags, image cropper, and more
Insight into followers, views, and interactions
Pros:
Unified inbox is compatible with LinkedIn
The dashboard is attractive and organized for peak productivity
Team members can give, accept or reject feedback on posts
Has a mobile app for on-the-go scheduling
Cons:
The search function is limited
On the pricier side of the tools mentioned above
Tips to Maximize Your LinkedIn Scheduling Strategy
Even with a LinkedIn scheduler, you need a robust LinkedIn strategy in place. It's crucial to understand your target audience and analyze its:
Demographics: Demographics cover all statistical characters of your target audience, including their age, gender, industry, location, and job position. These figures help tailor content to match the interests of your specific audience.
Preferences: What type of content and topics resonate with your followers? Do they prefer images and videos or text posts and infographics? Do they connect more with casual or inspirational posts? Consider the format and tone of your LinkedIn content.
LinkedIn behavior: Behavior involves how users interact with your LinkedIn posts. This encompasses sharing, liking, commenting, following, and clicking on links.
This ensures you create content that resonates with them.
A
recent study by HubSpot
revealed the best time to post on LinkedIn is between 9 AM and 12 PM on Mondays, Wednesdays, or Tuesdays (yes, in that precise order).
Weekends are the lowest-performing days considering LinkedIn is a professional network. But remember that your audience might have unique engagement patterns. To uncover them, experiment with different posting times. Use analytics totrack when your posts receive peak interactions and refine your schedule.
Maintaining a balanced mix of formats and topics keeps audiences interested and wanting more content. It also prevents your feed from becoming spammy and mundane. Aim for a mix of educational, entertaining, informative, and promotional content.
Educational posts can include industry-relevant insights, how-to guides, or tips.
You should include news updates and trends to inform your audience or entertain them with relatable anecdotes, storytelling, and humor. Promotional content should be subtle and limited.
User-engagement posts like questions, polls, seeking opinions, or sharing personal experiences encourage interaction and foster community. They prompt followers to leave comments generating visibility.
Remember to address your audience's challenges and pain points in your content provide solutions and value aligning with their professional goals.
LinkedIn has insightful analytics that you should monitor. Analyze which content works best for your audience. Your strategy should be continuously adapted based on engagement rates to stay ahead of changing audience needs.
Common Mistakes to Avoid When Using LinkedIn Schedulers
When using a LinkedIn scheduler, several common mistakes can hinder your efforts.
While scheduling tools are handy for social media management, relying solely on them is a mistake. A scheduling tool should supplement your personal engagement efforts, not replace them entirely. Social media is about real-time conversations, and automated posts may lack the authenticity and spontaneity that make these interactions meaningful.
Avoid the trap of automating everything. Respond to comments and messages, participate in industry discussions, and ask questions frequently. Genuine engagement will build credibility and your network.
Finding the right balance in posting frequency is key. Over-scheduling can overwhelm your audience, whereas under-scheduling might lead to lost content in the never-ending LinkedIn feed.
LinkedIn recommends
posting at least once daily, even on weekends, to double your content engagement.
Neglecting content variety is also another common issue. Monotony leads to reduced engagement. Your content should be diverse and include different formats like articles, images, and videos to keep your feed captivating.
LinkedIn offers valuable analytics. Ignoring these insights is a missed improvement opportunity as they reveal what content performs best and when to post.
Remember, all social media platforms, including LinkedIn, undergo regular changes. Stay up-to-date with changes to their algorithm, features, and user behaviors to evolve with the platform's dynamics. Keep an eye out for banned third-party tools, scheduling rules, etc.
Conclusion: Staying Ahead in the LinkedIn Game
LinkedIn is among the most powerful social networks. You can leverage the platform to connect with other professionals, find customers and employees, market your business, and share industry secrets.
We hope you find the above tools, like Postwise, helpful in boosting your LinkedIn outreach. Instead of worrying about publishing content on time without risking a ban, these tools aim to help you focus on cultivating quality connections.
Postwise can help you unlock your LinkedIn potential! If you are ready to experience cutting-edge technology,
sign up for a free trial
!
Written by