Consistency and quality are essential when it comes to social media success. However, creating, managing, and publishing content based on audience demands can be challenging. It's easy to lose track of key metrics and strategies that drive engagement.
You're not alone if you feel like you're experiencing a creative block or burning out. This is a sign to consider using an AI social media content generator.
AI tools are revolutionizing social media through intuitive features that help you make smart, data-driven decisions. From content creation to sentiment analysis and analytics, AI has the potential to supercharge personalization, productivity, and engagement. This post examines the top AI content generators to help you take your social media game to the next level.
The Necessity of AI in Social Media Content Generation
Working in an industry that morphs faster than a Transformer can be challenging. The social media landscape is ever-evolving and can leave creators wondering what's popular with audiences. The worst part is an overload of social media content, so you must ensure you stand out from the competition.
Here are 6 key content demands and trends that should fuel your next social media strategy:
Short-form videos like TikToks, Instagram Reels, and YouTube shorts are growing in popularity. They are an effective way to capture the audience's attention within seconds.
Aesthetics are a relic of the past - the audience now wants authentic, funny, trendy, and relevant content.
Cross-platform posting of the same content is no longer a good idea. Tailored content for each social profile, even minor tweaks, deliver better results.
Hashtags are obsolete. Followers and potential customers react better to relevant keywords in captions.
Content should focus on communication, transparency, and collaboration, with user-generated content growing in importance.
There is a stark increase in mobile-friendly content - most people no longer use their laptops or computers to access social media.
Social media platforms are constantly adapting their algorithms, so keeping an eye on updates is vital. As long as you continue creating exciting content that resonates with your followers, ego-driven decisions and misinformation can't hinder your performance.
Benefits of Using an AI Social Media Content Generator
Using AI for social media content saves time and ensures you stand out to supercharge engagement. AI tools can be used for various content-related tasks, from crafting captions, images, and videos to optimizing posting times and follower interactions. In a nutshell, no idea is too far-fetched regarding an AI social media content generator.
Here's how social media AI might benefit your digital content and marketing campaigns:
Saves time by automating mundane tasks so you can focus on innovation. Tasks covered by AI include content creation, scheduling, and analyzing follower data.
It helps you understand your follower's preferences and needs. You can leverage this information to drive meaningful content.
Suggests new creative ideas within a click, even when you lack resources or are experiencing a creative block.
Monitors cross-platform conversations to grow reach and engagement.
Manual processes and labor costs are reduced.
AI is data and insight-driven. As a result, you can count on accurate targeting for higher ROI.
However, an AI social media content generator has potential risks like all disruptive technology. Before diving in, it's necessary to consider the chance of misinformation, plagiarism, biases, and data privacy. Always double-check and validate all AI-generated content before publishing to protect your brand.
Top AI Social Media Content Generators in the Market
Now that we've covered the basics, here is an overview of the top-performing AI content generators on the market.
| | | | | | |
| --- | --- | --- | --- | --- | --- |
| AI Tool | Social Networks | Content Format | Top Features | Free Trial | Pricing Plan |
| Postwise | Twitter | Text | • AI Tweet and Thread Writer • GhostWriter (Coming Soon)  • Tweet Queue (Scheduler) • Inspiration Content | 120 Postwise AI credits | Starts from $37/ month. |
| Jasper AI | Facebook, Twitter, Instagram, and LinkedIn | Text and Images | • Jasper Templates and Recipes for social media posts and copy • Keyword input tool • Grammarly Integration • AI Written Content Generation | 5 days - 10,000 words. | Starts from $29/month) |
| Canva AI | Facebook, Twitter, Instagram, and LinkedIn | Text, Images, and Videos | • Text to Image • Magic Eraser, Edit and Design • Magic Writer • Beat Sync | 30 days. | Some AI features are free but limited.  Canva Pro starts costs $6.49/month. |
| SocialBee | Facebook, TikTok, Pinterest, YouTube, Twitter, Instagram, and LinkedIn | Text | • Cross-platform publishing and content queues • AI caption generator • Posts Re-Que  • Engagement Tracking  • Bulk-Editor  • Hashtag Generator and Organizer  • Canva Integration | 14 days. | Starts from $29/ month. |
| Synthesia | Facebook, Twitter, Instagram, and LinkedIn | Video | • 100+ Realistic AI Avatars  • Multi-language voice-overs  • Customizable templates  • Closed Captions  • Screen Recorder • Free Media Library | Free basic demo video. | Starts from $22.50/ month. |
| Ocoya | Facebook, Twitter, Instagram, YouTube, and LinkedIn | Text, Images, Video, and Music | • AI Copywriter • Content Generation (Graphics, Films, Music, and Pictures) • Post Scheduler and Calendar • Analytics dashboard  • Shopify and WooCommerce integration | 7 days | Starts from $19/ month. |
| Peppercontent | Facebook, Instagram, Twitter, Quora. | Text and Graphics | • PepperAI workflow management • Peppertype AI text and content generator • Content refresh process • Keyword Research and Tracking | 7 days | Starts from $399/month. |
A Closer Look at the Best AI Social Media Content Generators
With so many AI social media content generator options, finding the right one for your needs can be overwhelming. Don't fret; here are our top three recommendations based on specific use cases.
Postwise: Best for AI Twitter Content Generation
Several AI Tweet generators
out there use OpenAI's API to help you prepare Twitter content. Postwise stands out by leveraging non-GPT AI inspired by your previous well-performing posts to transform your ideas into viral, compelling tweets. Users can generate content, schedule it effortlessly, and watch their engagement, conversion rates, and reach thrive through the revolutionary platform.
All you have to do is let the AI social media content generator know the topic you want to tweet about or select one of the drop-down suggestions. The platform then generates six distinct options for you to choose from. Instead of needing a team of writers to create unique, engaging content that captivates your audience, Postwise takes charge for you .
Selecting the flexible thread-generation option automatically produces 12 inter-connected tweets. They're optimized to help you expand on a topic without risking losing your audience's attention.
Each user receives an AI Ghostwriter, which analyzes previous tweets to understand your writing style and tone. The result is non-robotic, authentic content that fits in seamlessly with the rest of your content. In a nutshell, you get your own designated tweeter with ultimate flexibility.
Postwise is a leading Twitter AI creation tool. Its additional features include scheduling, inspiration cues, GrowthTools, and retweeting top-performing content after a while to give it another boost. Users can customize their target audience and interest areas to stay relevant and on-trend.
Postwise's AI can be your best companion to achieve this goal if you are serious about growing your Twitter following and engagement. In other words, Postwise offers long-lasting Twitter automation and consistency around the clock so that you don't have to stay up late Tweeting and following the news.
Canva AI: Best for AI Graphic Design
Canva has always been synonymous with graphics automation. However, with its new all-in-one AI tools, you can enhance your designs and take them to a whole new level, even if you are a beginner.
Canva offers generative tools like text to images based on prompts. You can create product images, brainstorm in real life and create unique, viral content through simple prompts.
With the Magic Eraser tool, you can also tweak existing photos and remove unwanted objects or backgrounds. Magic Eraser is a lifesaver and reduces editing time significantly with its accuracy.
To eliminate the need for a professional designer entirely, Canva AI offers Magic Edit, Write, and Design. As their name suggests, these tools genuinely work like magic. The Magic Edit tool can transform backgrounds, customize product photos, and modify details, making iterative designing fun and fast.
Although dozens of exclusive AI writing tools exist, Canva reduces the need for copy-pasting content. The Magic Write generator is ideal for brainstorming or creating all written content for social media. Users just have to input keywords, select a template and let Canva work magic.
The one tool that stands out the most is Beat Synch. This AI takes the pain out of tedious manual editing and synchronizing audio and video. Even as an inexperienced video editor, you can create polished, mesmerizing videos bound to generate traction.
Simply put, Canvas AI capabilities can enhance design workflows and transform graphic design for everyone.
SocialBee: Best for Social Media Content Management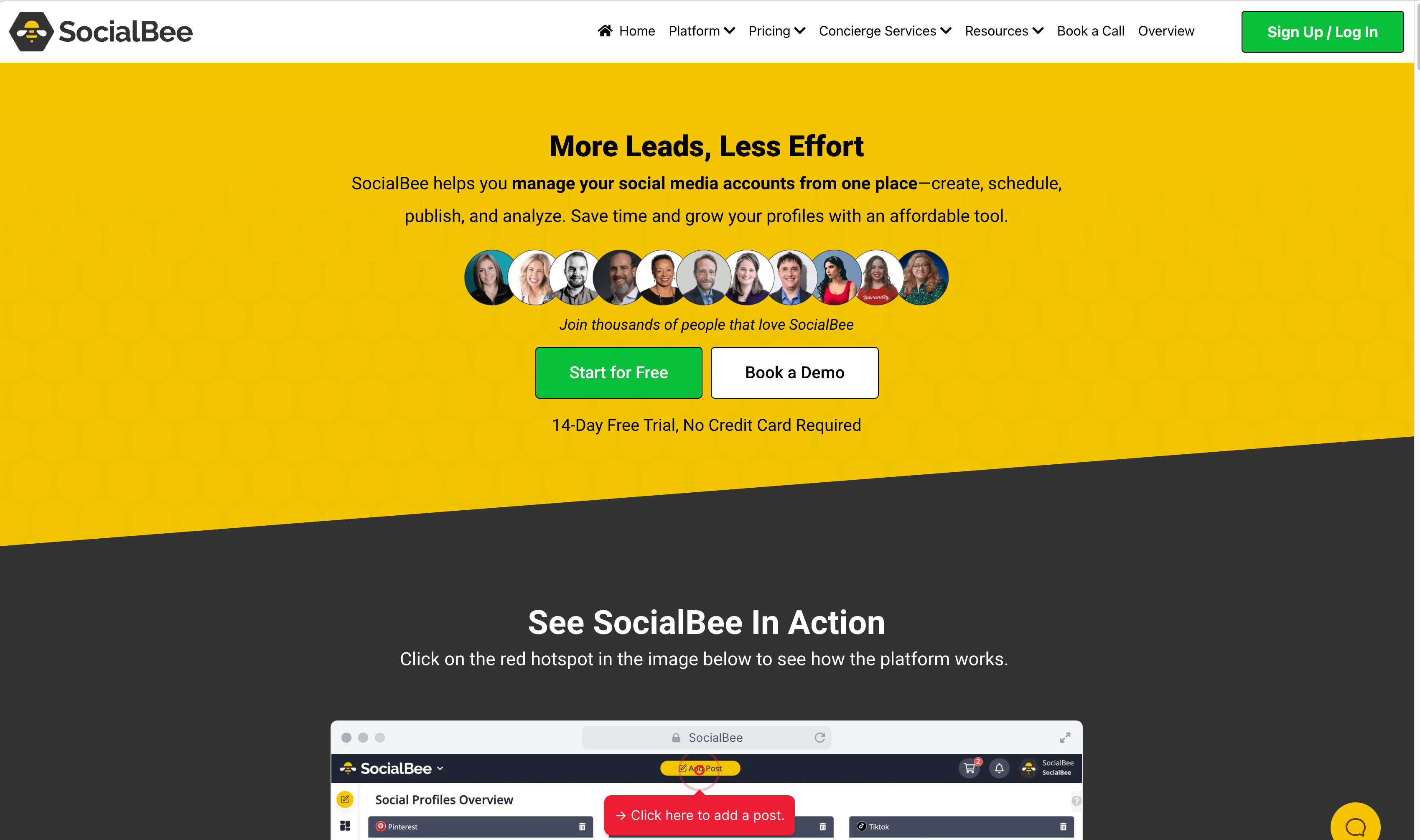 Social media content generation is not the only task most of us struggle with. SocialBee is a management, organizing, scheduling, and monitoring tool that makes publishing across all your social networks a breeze.
SocialBee's simple, intuitive dashboard allows you to easily switch between profiles and workspaces to add posts, configure settings and access all its features. You can integrate multiple Twitter, Facebook, Instagram, LinkedIn, and Pinterest accounts through the platform.
The UI is focused on publishing and scheduling. It offers content categories, types, and RSS feeds, to name a few options. You can create new categories, import media or CSV, and integrate with various browser extensions as content sources.
You can also use its built-in AI social media content generator to create engaging copy for all your social media accounts in seconds. By tailoring the tone and voice of the output, you can enhance readability while ensuring all your content sounds cohesive with the rest of your branding.
SocialBee automates schedule quests based on your category configurations. You can select which profiles you want to post for efficiency through individual editors for each platform. As a result, you aren't restricted by word counts or variants to optimize your post.
The platform also offers team collaboration and analytics for data-driven insight and feedback to adjust strategies as required. SocialBee also integrates with Hootsuite, Canva, Unsplash, and Giphy. Other features include URL shortening and Instagram support.
Rather than switching between your social media profiles and increasing the likelihood of errors, SocialBee is an excellent AI tool that makes scheduling on the go possible.
Features of an Outstanding AI Social Media Content Generator
Not all AI is built the same way, and technologies can vary drastically depending on use-case and algorithms. Your AI social media content generator should:
Create a variety of content depending on your needs. This includes text, images, graphics, and videos to keep the social media presence fresh and exciting.
Allow customization, including tone, length, and style of content.
Be easy to use and navigate with a clean and intuitive interface.
Have a deep understanding of various target languages in terms of grammar, syntax, and spelling.
To hook followers, generate attractive content using storytelling, humor, and other language techniques.
Follow industry-standard security, privacy, and data protection measures.
Adapt to the latest social media trends and generate relevant content that resonates with your target audience.
These features are vital for social media content - but your AI generator should also be affordable and integrate with existing marketing tools.
How to Choose the Right AI Social Media Content Generator for Your Needs
What are you looking for in your AI social media content generator? What type of content do you need to create, or are you looking for AI that works with specific platforms? Before browsing AI tools, you must identify your needs to narrow down the options.
Set clear objectives like increasing engagement, generating leads, or saving time. Once you understand the purpose of switching to AI and automation, you can look up tools to help you achieve them.
Consider your budget because AI social media generators can range in price drastically. Then, look up user reviews to determine performance and how the AI tool aligns with your requirements. Also, consider your target audience and the latest industry developments to ensure you are on point.
Most importantly, feel free to experiment and make use of free trials. This will give you a clear idea of what works best for you and what doesn't.
The Future of AI in Social Media Content Generation
AI has rapidly changed how we interact with and craft content for social media. Industry experts predict that AI will continue to create immersive experiences tailored to individual preferences. Algorithms can already analyze user data and behavior. As technology advances, so will these capabilities. You can expect curated feeds, targeted marketing, and enhanced user satisfaction.
AI is expected to shape social media through automated content creation and processes. AI chatbots are also becoming increasingly popular to boost community engagement.
Sentiment analysis is another growing trend that uses NLP and other AI techniques to identify trends. This helps social media managers understand public opinion, customer feedback, and brand perception. The role of AI revolves around personalization, efficiency, and leveraging data-driven insights to foster meaningful connections with followers.
Conclusion
Overall, AI can boost creativity, decision-making, and innovation. Various social media content generator tools exist to stay ahead of the rapidly evolving social media world.
Platforms like
Postwise
embrace AI to meet user expectations, stay consistent and allow creators like you to focus on productivity and strategizing. Staying ahead of the dynamic social media marketing landscape is imperative to maintain engagement!
Frequently Asked Questions
What is an AI content generator?
An AI content generator is software powered by algorithms. It can automatically generate different content formats by analyzing large volumes of data and content to identify patterns and writing styles.
Why should I use an AI content generator for my social media content?
Using an AI social media content generator can save resources and time while ensuring consistent and regular content. It also drives creativity in campaigns by suggesting fresh ideas and perspectives.
How do I ensure the content generated by AI aligns with my brand's voice and style?
It's as easy as providing clear guidelines and examples when prompting the AI platform. Then, review and refine the AI-generated content for adjustments before publishing.
Is the use of AI content generators cost-effective?
This depends from situation to situation. There are usually initial costs involved with training and implementation. However, AI can generate content quicker and more effectively once in place than a manual creation process.
How do AI content generators stay updated with social media trends?
AI is constantly being trained on up-to-date data. This includes news, trends, and fresh online content. Their algorithms are programmed to regularly analyze and incorporate updates to ensure content is relevant and aligned in real time.
Is there a risk of content plagiarism when using AI content generators?
AI content generators use large volumes of existing online data to generate content for you. Thus, there is always a risk of plagiarism and inaccuracies. It is highly recommended to fact-check and thoroughly edit content for quality assurance.
Written by