Thousands of Twitter followers mean nothing when they don't engage with your content.
Like other popular social media platforms, Twitter uses an algorithm to determine which posts appear in each user's newsfeed. In the eyes of any social network, engagement levels are the most effective quality measure for this AI. But how to get Twitter engagement, what does it imply, and why does it matter?
Engagement refers to how people connect with your brand or profile. It considers retweets, likes, replies, follows, mentions, and embedded links, to name a few.
In a nutshell, engagement is a fancy word for how many people like, comment, and share your Twitter posts. High engagement rates mean a boost in followers, brand exposure, and traffic.
If you intend to invest in Twitter marketing and want to reach a wider audience, your priority should be engagement. This article covers everything you have to know to boost your Twitter engagement.
Foundation for Twitter Engagement
There are millions of Twitter users, from media personalities to potential clients. When your target audience searches for your brand, you want them to be able to navigate to your profile easily. Before you craft tweets, the first tip to increase your Twitter engagement is to optimize your profile. This will help ensure it connects with your target demographic, setting you up for success.
Setting up a Compelling Twitter Profile
Whether a novice or a pro-content creator, your profile can make or break first impressions. From your Twitter handle to profile pictures and bios, each element reflects the type of creator you are.
When people look you up on Twitter, your handle and name increase your chances of being found. An effective handle is original and easily recognizable by others. For personal brands, a go-to solution is usually their name:
Always add a profile picture to your Twitter. If you represent a business, a simple, recognizable logo that represents your brand attracts viewers. If you own a personal brands,  use a flattering recognizable image of yourself that leaves a lasting impression.
Similarly, your Twitter header is like a magazine's cover; you should change it regularly to showcase unique features about your brand. Your header has more room than your profile image so that you can get as creative as possible. For instance, you can use this space to give back to your community or manifest your slogan.
Whatever images you choose, consider their color, size, format, and mobile view.
Twitter's recommended
profile picture file size is
400 x 400 pixels
, and the header size is
1500 x 1500 pixels
.
The next step is to take your time to craft an enticing bio carefully. Your Twitter bio is a rare opportunity to woo search engines and reach a wider audience. Within 160 characters, share what your content is all about. Remember to make it sound authentic, fun, and humanizing because people want to know the real you!
Here are some examples of bios that might help:
Paul Couvert (@itsPaulAI)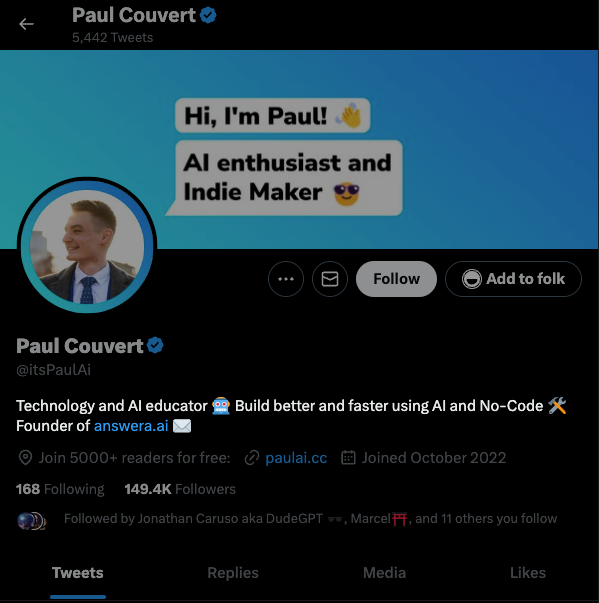 Here, Paul opts to specify his niche first. In the second sentence, he offers a unique benefit from following him — learning how to embrace the power of AI and no-code. Lastly, he pitches his product, adding a link to it.
Owen Roberts (@ItsOwenRoberts)
Owen focuses only on his potential follower (and client). He clearly states his value proposition ("spend less time on Twitter and have more time for building"). Plus, he lets you know how he helps you achieve it (through tools and storytelling).
Mathew Warboys (@Mathew_Warboys)
Mathew focuses on social proof in his description. This might be a great idea if you want to offer your followers a product or a service that helps them achieve a specific goal.
Understanding your Target Audience
The number of Twitter users
continues to grow
. So, the range of demographics follows suit. To define and research your target audience. Consider key factors like:
should all be considered. By identifying this data, you can decide which marketing tactics to use, what potential audience to reach out to, and to customize targeting.
In addition to demographics, explore your follower activity on Twitter to understand their likes and dislikes.
Analyze competitors in the same niche by going through their feeds. This will help you identify what types of tweets inspire the most engagement. You can also collaborate with top influencers for practical help.
Key Ingredients of Engaging Tweets
When considering how to get Twitter engagement, your Tweets are the star of the show. But coming up with the perfect Tweet is a fusion of art and science. Your Tweet should pique the audience's interest and spark curiosity. Don't be afraid to ruffle some feathers, make noise and share your opinions because Twitter is an open platform.
Crafting compelling Tweets
Marketing, engagement, or analytics tool can only boost your Twitter engagement if your Tweets are captivating and exciting.
Revolutionary AI writing tools
like Postwise are designed to eliminate the stress around crafting Tweets. Our AI Ghostwriter analyzes previous tweets to understand your writing style before generating fresh, personalized content.
Clear and concise tweets with relevant hashtags and CTAs deliver results. Being short and straightforward is ideal instead of curating tweets with complicated language. Think of your audience's perspective before drafting your Tweet. If it is conversational and relevant, the higher the chances it is liked and shared. Feel free to add emojis to express emotions without using too many words.
The
sweet spot for a Tweet is 240 to 259 characters
, but you can start a Twitter Thread instead of exploiting the character limit. Regardless of length, always include a Call to action because direct influence increases overall engagement. Power words like:
trigger brain activity and gratification, making them essential for a persuasive copy.
Tagging relevant users and influencers is another way to boost your Twitter engagement. If the user finds your content valuable, they are more likely to reply or retweet it, boosting reach and impressions.
Using Visual Content
Research suggests
that Tweets that use visuals like images and videos have significantly more retweets than content that don't. Even though the platform is primarily word-based, focusing on eye-catching visuals and minimum whitespace is a top tip to increase your Twitter engagement.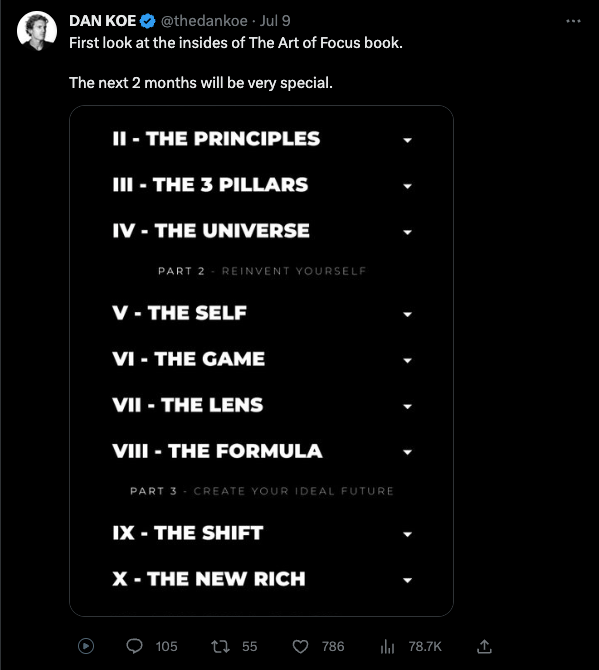 Text alone is ineffective in communicating complex topics or emotions. In addition to mainstream visuals like infographics, branding, and videos, we recommend tweeting memes and GIFs. They are highly shareable and generate instant buzz. Remember to avoid cluttering and use high-quality mixed media that fits Twitter dimensions.
Mastering Twitter Features
Twitter is known to be simple, but it has developed various useful features that help you make the most of the 280-character limit.
Maximizing the Power of Hashtags
Hashtags are essential to Twitter. They make organization a possibility through keywords and topics so users can follow developments in areas of interest. They also make Tweets more visible in Twitter search results. But how to get Twitter engagement through hashtags?
One way to pick the most effective hashtags is to research
Twitter trends
. Pick a trend that resonates with your followers but is also something you can add to. Consider the purpose of your tweet and incorporate SEO-friendly keywords because they are short, easy to remember, and improve discoverability.
The best hashtags are usually linked with marketing activities. You can also create a branded hashtag exclusively for your content; however, use
Advanced Search
to ensure it isn't already used. Remember to avoid using punctuation or spaces in hashtags to ensure they are searchable.
Although you can use as many hashtags as you want,
Twitter recommends using no more than 2
. The bottom line is that overdoing hashtags doesn't boost your Twitter engagement; selecting the right ones does. It's essential to use hashtags that are relevant to your Tweet strategically. Audiences don't perceive unnecessary hashtags well; therefore, it's best to avoid them unless they fit in contextually.
Understanding the Importance of Pinning Tweets
Pinned tweets have the most visibility: anyone who views your profile and scrolls through your timeline will see them before others. They are a strategic extension of your profile and can be used to showcase your expertise.
Pinned tweets accumulate high likes and retweets over time, making them ideal for social proof. This is very important for content creators because they can leverage Twitter to get the word out about new content. Strategically pinning tweets is an excellent tip to increase your Twitter engagement - even Twitter suggests they help reach a wider audience.
Utilizing Twitter Threads Effectively
Tweets are brief. Sometimes we need more words to tell the entire story. That is precisely what Twitter threads are for. Twitter threads are a series of tweets stringed together to share one story.
Your thread must captivate readers to increase traffic and engagement.
You need to hook your readers from the get-go. Postwise's AI Writer can help you generate thread hooks to boost your Twitter engagement and avoid flops. The idea is not to reveal everything. Instead, build curiosity and let people know you have to say more.
Your Twitter threads should be shareable and resonate with your followers. Feel free to experiment but prioritize storytelling and your unique perspective.
Engagement-Boosting Strategies
Now that you've understood the importance of Twitter, here are a few strategies to help you boost your Twitter Engagement. Remember that these approaches deliver results based on several factors, including content quality.
Leveraging the Power of Twitter Polls
The interactive nature of polls makes it easy to show off your uniqueness and engage with followers. Sometimes, all people want to feel is heard. Mostly, this is also true on social media; therefore, polls are a great way to show them that their opinions matter to you.
Alternatively, you can build anticipation, settle debates, get feedback, or have fun and play a game. Stay on top of current trends and seasonal events to engage your audience in discussion through polls.
Running Twitter Contests
There are many ways to host contests on Twitter, including:
Retweet and Follow Giveaways
Craft a Meme, Hashtag, or Caption Contests.
Twitter contests surpass your follower count by building brand awareness, reaching a wider audience, and forming a community.
Online tools can help you pick a winner when the time comes. However, for a successful contest, stay away from Spam and cover your basis regarding local laws. Plan ahead and consider the dates of your contest, prizes, and guidelines before you begin promoting. Also, thoroughly check
Twitter's guidelines for sweepstakes and contests
.
Collaborations and Shoutouts
Cross-promotion like collaborations and shoutouts helps build exposure, credibility, and relationships with other like-minded creators. Finding other creators in your niche is easier than it seems. First, look for creators with a similar audience within your industry.
Check through their followers, engagement rate, and content to see if they align with your goals. Then, engage with their content before reaching out and pitching a collaboration. You could agree to retweet each other, collaborate on tweets and threads or run joint giveaways.
To ensure a win-win situation, ensure the content aligns with both Twitter handles and only promotes content you believe in. Losing credibility isn't a great way to boost your Twitter engagement.
Understanding Twitter Analytics
The Twitter Analytics dashboard reveals robust data like total followers, impressions, etc. These insights help track audience behavior because they allow you to
unlock growth strategies
.
You can learn what types of content your followers enjoy the most, what time of the day drives in most engagement, and how to fine-tune campaigns for impact.
Once you log in to Twitter Analytics, all your stats are organized into Tweets, Videos, and Conversions. The first section is an overview; the Tweet and video dashboards reveal past tweet and media performance, while the conversion dashboard allows you to track website and mobile-based activity on tags.
Actionable Tips to Boost Twitter Engagement
The best time to post depends on your audience. You can use Twitter analytics to decide what time of the day to tweet to boost your Twitter engagement. Nonetheless, try to post multiple times a day because the lifespan of Tweets is relatively short.
Engagement goes one step further than just posting. Regularly reply, retweet, and quote followers. Retweets are a great way to share others' perspectives and content without original content. This helps maintain your online presence without any effort. Likewise, quoting allows you to add your perspective and unique flair to a retweet.
Common Mistakes to Avoid
Negligence, like ignoring user feedback, spamming, or over-promotion, can harm your online presence. It drowns your authentic content, turns followers away, and makes your audience feel dismissed.
You should also avoid inconsistent posting, which undermines credibility and breeds confusion. You need a balance of engagement and respecting boundaries for an impactful Twitter experience.
Conclusion
Working on your Twitter engagement by actively participating in conversation, sharing valuable content, and connecting with like-minded individuals can yield long-term benefits. They reflect your dedication and reliability while giving content creators a rare opportunity to refine their skills.
If you want to stay ahead of the dynamic online landscape and lay the foundation for lasting conversions, tools like Postwise can help boost engagement within a few clicks.
Sign up now for a free trial
and explore all the latest AI-driven features.
Frequently Asked Questions
How often should I post on Twitter for optimal engagement?
Several online sources recommend posting 3-7 times daily to maintain an active presence on Twitter.
How can I increase my followers on Twitter?
The key is consistently sharing high-quality, relevant content and actively engaging with your followers.
What is the best way to use hashtags on Twitter?
Begin by researching relevant and popular hashtags that align with your content. Then strategically incorporate them into your content sparingly to avoid looking spammy. Overloading content with hashtags also makes it difficult to read.
How can I effectively respond to negative feedback on Twitter?
Remain calm and empathetic. Instead of an aggressive approach, acknowledge the feedback, apologize and take it as constructive criticism for future improvement. Remaining professional can help turn a negative experience into a positive.
How can I measure my Twitter engagement rate?
Analyze key metrics like the number of retweets, likes, replies, and link clicks. Also, monitor your follower growth rate and mentions. These are all available within the Twitter Analytics API and serve as a reference for engagement rate.
Written by