As marketing trends change and shift towards social media, so do algorithms. Accordingly, success on social media is heavily reliant on consistency and relevance.
So, consistent, high-quality content cracks the algorithm's code and enhances your online presence.
However, creating content, punctual publishing, and gauging your target audience's preference can become intimidating.
But thanks to the emerging popular AI tools, you can tackle all these hurdles quickly. But how does AI integrate into a social media manager's worfklow?
The Role of AI in Social Media
As artificial intelligence technology develops, we can now gather social media insights humans could never accomplish.
Popular AI tools can replace many repetitive and time-consuming social media jobs. This lets your team concentrate on more significant initiatives. Marketing experts can use this time to develop organic consumer interactions or create multimedia promotions.
Ultimately, you'll be able to make wiser judgments, comprehend your audience, and have more time to focus on other tasks.
Understanding Different AI Tools in Social Media
The finest social media managing tools help you increase consistency and efficiency by keeping track of past and upcoming posts. They also automate certain aspects of scheduling and posting or provide a clear picture of critical metrics related to effectiveness and audience.
But the market demands something extra.
That's where AI comes in. AI tools for social media let you develop topics for your articles and analyze big datasets to determine how your target market feels. You can even use them to predict how well a post will do in the future.
But with so many options in the market, it's hard to choose the right ones for your convenience and marketing strategy.
So, below is a categoric description of some of the best AI tools, depending on your requirements.
Overview of AI Tools Used in Social Media – categorized!
Let's look at some efficient AI tool categories according to their uses, plus pros and cons.
Social Media Tools for Tweets and Threads
Twitter is one of your most potent weapons as a social media marketer. The tools below will help you master the platform and enhance your customer base.
Postwise
Postwise is like having a highly efficient content-writing team at your disposal. It helps you
create engaging tweets
, effortlessly schedule them, and increase your Twitter following.
And the best part? You don't need to write a single sentence. Postwise builds your personal AI model that studies tweets and threads and generates new content based on your well-performing work.
The app offers GrowthTools Suite, which helps marketers enhance their engagement and audience.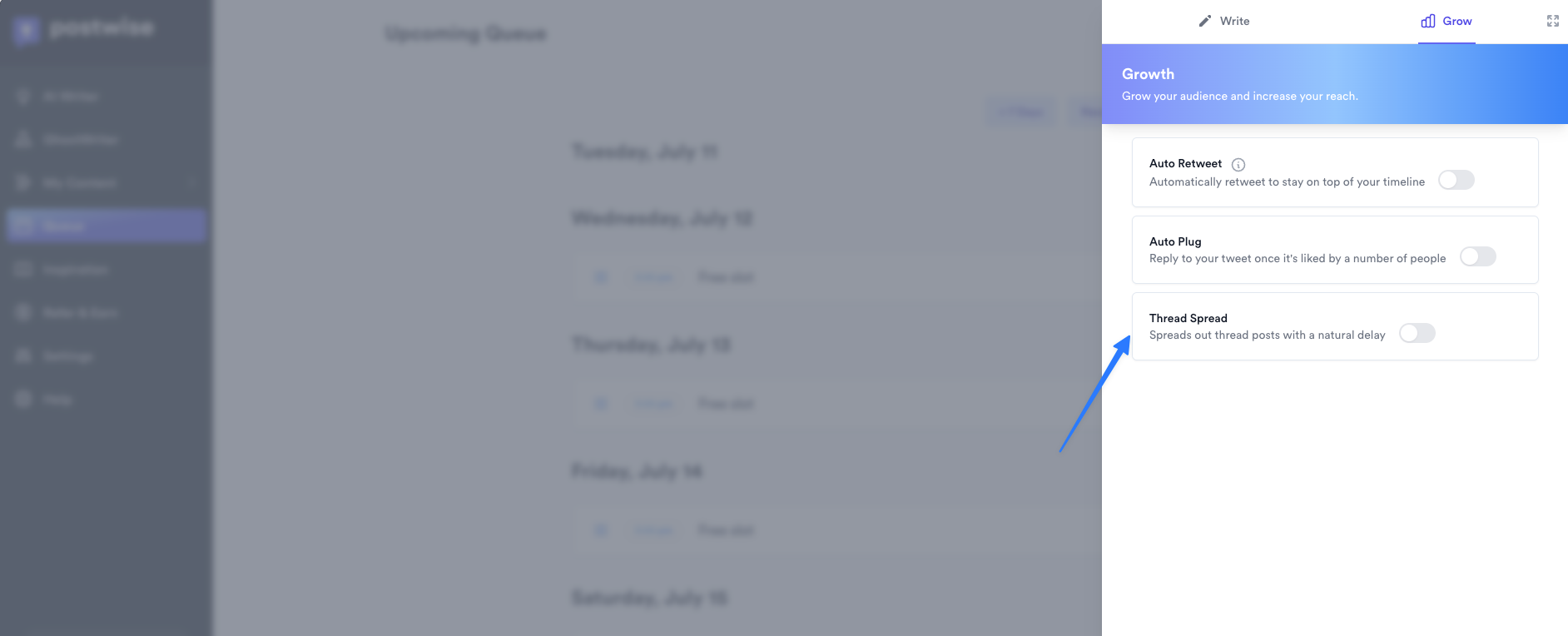 Pricing
Postwise offers users two payment plans.
The Basic plan covers five account connections. Moreover, it lets you schedule posts for up to six months for $37 per month (paid yearly).
The Unlimited plan provides all Basic plan features plus unlimited scheduling, unlimited AI Tweet credits, and unlimited account connections - for $49 monthly (paid yearly).
Additionally, Postwise offers a
free trial
with 120 AI Postwise credits to let you test its performance and compatibility with your marketing strategy.
Final Verdict
Overall, Postwise is an easy-to-use tool with a precise payment plan and effective content generation.
Postwise can be your one-stop solution for all your Twitter needs. It is an all-in-one Twitter marketing solution to reduce workload and enhance efficiency. If you're targeting
450 million active users
on Twitter, Postwise is a must-have tool in your marketing arsenal.
AtOnce
AtOnce is another efficient tool to kick-start your Twitter marketing strategy at once. It offers 70 AI templates and 30 languages to smooth-sail your marketing campaign. Regarding versatility, it is one of the best AI tools in the market.
AtOnce doesn't only create a single tweet but is a perfect solution for generating threads.
Pricing
The Silver plan offers 20,000 words for $24 per month with the following features:
70+ AI templates
AI Writer/Editor
AI Photo Generator
24/7 AI Chat Support
AI Emails/Messaging
30+ Languages
Unlimited Users & Messages
The Gold plan offers 100,000 words for $79 per month with all the above features.
The Diamond plan offers 700,000 words for $499 monthly with all the above features.
Additionally, AtOnce offers a 5-Day Free Trial With 10k Words to let you test its performance and compatibility with your marketing strategy.
Final Verdict
Overall AtOnce is an efficient tool. However, it is slightly expensive considering its features.
TweetStorm
Tweetstorm is among the most popular AI tools. It offers a range of powerful features to enhance your Twitter presence.
You can quickly find popular hashtags to increase interaction and broaden your audience with the help of the Hashtag Suggestions tool.
Thanks to the Unique Bio Creation function, you can write original biographies that appeal to your target market.
The Twitter Username Generator also creates catchy and pertinent usernames that make an impression on your followers.
Pricing
It offers three plans.
The Hobby is a free plan and offers eight credits/ month. It is GPT 3.5 powered and lasts five Historic generations.
The $12 Professional plan is GPT 4 powered and offers 100 credits per month.
The Agency plan costs $29 per month and offers 300 monthly credits.
Final Verdict
Overall, TweetStorm is one of the most handy AI tools for social media. But it lacks scheduling and limits creative control.
Social Media Scheduling with AI
Social media marketing campaigns must be punctual and consistent, which is only possible through vigilance. But AI tools for social media like Flick and Ocoya make the task more manageable and relaxed.
Flick
Flick is one of the best AI tools for scheduling. It includes an AI Social Media Assistant to generate content ideas and help with caption writing.
Features such as a Content Planner and a Scheduler allow effective posting, hashtag optimization, and analytics for data-driven choices.
These functions facilitate social media administration for organizations, save time, and improve online visibility.
Pricing
Flick offers
three plans
in addition to its free trial.
The Solo plan is worth £11 per month. It allows a single-user login, and you can link 4 social profiles. Users can schedule and track 30 Instagram posts monthly with restricted feature access.
The Pro plan is worth £24 per month. It allows two users to log in and links eight social profiles. Users can schedule and track unlimited Instagram posts monthly and access all features.
The Agency plan is worth £55 per month. It allows five users to log in and links 20 social profiles. Users can schedule and track unlimited Instagram posts monthly and access all features.
Final Verdict
Overall, Flick offers a quick Instagram marketing solution and is one of the best AI tools for the platform. However, it needs to improve its hashtag relevance. Also, it is specific to Instagram, so it needs more platform versatility.
Ocoya
Ocoya has a powerful AI copywriting capability. It makes it easier to create exciting content by offering 56 templates for different channels.
Users may select a template, enter their prompt, and produce content within minutes.
This makes it one of the most popular AI tools.
The AI software makes adding photos, emoticons, and automatically created hashtags simple.
Pricing
The Bronze plan is worth $15/month.
The Silver plan is for growing teams and costs $39/month.
The Gold plan is for scaling businesses and costs $79/month.
The Diamond plan is for large organizations and costs $159/month.
Final Verdict
Overall, Ocoya blends AI authoring with social media scheduling to speed up and improve enterprise content development. This lands it among the most effective AI tools for social media.
However, users should consider the limited customization and the need to balance AI-generated content with their brand's unique voice.
Visuals for Social Media Using AI
A marketing campaign is incomplete without the right visuals. So, these popular AI tools can be the perfect solution to generate accurate graphics for your strategy.
Dall-E 2
Dall-E 2 is among the best AI tools to add graphic value to your marketing strategy. You can use it for adaptable AI-generated photos unavailable in conventional AI stock libraries.
The software completely alters the way graphic assets are used. All you need to do is give the appropriate prompt for DALL-E 2 to produce visuals tailored to any situation or sector.
Therefore, the tool is perfect for developing graphic content for websites, social media, and marketing initiatives.
Pricing
Images with 1024×1024 resolution cost $0.020
Images with 512×512 resolution cost $0.018
Images with 256×256 resolution cost $0.016
Final Verdict
Dall-E 2 offers comprehensive AI-generated visuals from prompts in the natural language. Further, it can perform outpainting and inpainting duties and creative combinations of ideas, traits, and styles. So, it's one of the best AI tools for visual content.
InVideo
InVideo produces and edits high-quality films for social media advertising, promotions, instructional videos, and individual projects.
It provides over 5000 customizable video templates and a vast stock media library with eight million resources from iStock and Storyblocks.
Moreover, its editing features are extensive, with animations and masks which enhance content engagement. All these make InVideo one of the most popular AI tools for visuals.
Pricing
The Business plan costs $15/month and is for small businesses, influencers, and educators.
The Unlimited plan costs $30/month and is for agencies and larger teams.
Final Verdict
Overall InVideo is an efficient tool that enables team collaboration and real-time preview in addition to its comprehensive editing tools. However, it limits its services to 40 minutes for video length and 100 GB for media files.
Pictory
Pictory is a convenient AI tool for generating videos from text. It is best for creating advertisements and presentations.
Create your script, select a template, and Pictory will do the rest. For your film, Pictory utilizes AI to discover the top photos, videos, and soundtracks.
Ultimately, you can use its simple AI tools for social media to edit and share your video online.
Pricing
The Standard plan costs $19. It allows one user per account with 30 videos monthly and limited features.
The Premium plan costs $39. It allows one user per account with 60 videos monthly and more accessibility to features.
The Teams plan costs $99. It allows three users per account with 90 videos monthly and highly accessible features.
Additionally, the free trial requires no credit card.
Final Verdict
Overall, Pictory is an affordable and customizable tool. But it could improve its language limitations and accuracy.
Social Media Audience Targeting with AI
Targeting and engaging the right audience on the internet can take much effort. But these AI tools for social media will make the task much more manageable.
Pattern89
Pattern89 optimizes ad management tasks. It also gives suggestions for enhancing ad effectiveness using the Creative Commercials Manager to review previous commercials.
Due to its capacity to research user behavior on social media platforms, it's efficient in optimizing social media advertising.
Pricing
Prices are provided on request.
Final Verdict
Pattern89 is a powerful AI marketing tool offering advanced analytics and optimization to improve ad performance.
LocaliQ
LocaliQ
was previously known as Wordstream. It provides customized social ad techniques to connect with potential clients.
Furthermore, the platform offers a single lead dashboard for tracking and evaluating campaign results. It also provides lead generation, report access, and marketing automation to streamline marketing activities.
Pricing
Pricing is provided on request.
Final Verdict
Overall, LocalIQ is a comprehensive tool with a friendly UI. Its XMO technology is a notable feature that lets you manage your marketing budget easily.
Analyzing Social Media Data with AI
Social media analyses are vital to streamlining your marketing efforts and observing their efficiency. Below are some valuable AI tools for social media that achieve this with minimal effort.
Audiense
An AI/ML data software called Audiense focuses on analyzing Twitter data.
It provides complete reports with insights about the following:
Additionally, the platform offers tools for audience management and market research via social media.
Pricing
The Growing Business plan costs $79/month with 15 keywords and 5k mentions.
The Company plan costs $249/month with 30 keywords and 30k mentions.
The Enterprise/Agency plan costs $449/month with 50 keywords and 100k mentions.
Final Verdict
Overall, Audiense offers detailed insights from various aspects of Twitter data. However, it is restricted to Twitter, limiting analyses of other platforms.
Linkfluence Radarly
Linkfluence Radarly is an effective tool for studying social media data. It enables users to assess a brand's influence, identify trends, and acquire a detailed understanding of their intended market.
Users can access a dashboard that compiles information from all their social media profiles. The dashboard offers a real-time feed of tweets and articles referencing the business and a sentiment score for each.
Pricing
Linkfluence Radarly offers four plans, and the pricing is provided on request.
Final Verdict
Linkfluence Radarly is an efficient tool that live streams social data allowing an in-depth customer analysis.
The Future of AI Tools in Social Media
AI developments will reshape social media interactions.
They will provide highly tailored experiences and streamline repetitive tasks, such as creating content calendars or quantitative data analysis..
AI has great potential to expand our research abilities. We won't have to scramble through thousands of pages to find relevant information about our target audience or things our customers might find interesting.
But what about the challenges that we face?
Challenges and Ethical Considerations
Emerging AI technologies offer automation, personalized experiences, and advanced analytics opportunities.
However, biases, lack of transparency, and privacy concerns need addressing for responsible use. AI-powered chatbots, AI-generated content, and predictive analytics will become more prevalent.
Misinformation and fake news will also be a prevalent challenge and will need utmost vigilance to maintain internet content quality. Additionally, overreliance on automation is a factor to consider as AI takes over social media marketing and other professional sectors.
Therefore, balancing its capabilities with ethical principles is vital to unlocking AI's full potential in social media marketing.
Conclusion
AI has revolutionized social media marketing with its ability to enhance online presence, automate tasks, and provide valuable insights. It enables businesses to create high-quality content and personalized experiences.
However, addressing biases, transparency, and privacy concerns is vital for AI's responsible and effective use in social media.
Written by